RE: Seat To Bring Twin-Engined Rally Car To Goodwood
Wednesday 29th June 2011
Seat To Bring Twin-Engined Rally Car To Goodwood
Ibiza 'Bimotor' to star on the rally stage at FoS
---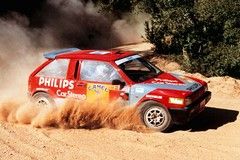 One of the highlights of the Goodwood Festival of Speed is undoubtedly the rally stage, where you get a chance to see rally cars and rally stars of the past and present fling themselves sideways around one of Lord March's garden copses.
This year will be no different, except that joining the usual gaggle of classic Escorts, WRC motors and Group B monsters will be, er, a 1980s Seat Ibiza.
No if that sounds about as interesting as watching a tractor plough a field, bear with us, because this is no ordinary Seat. Nope, this one has two engines.
It's called the Ibiza Bimotor rally car, and features two 1461cc 8-valve engines mounted transversely - one in the front and one in the back - to create a 125ps four-wheel-drive rally car. It even achieved a modicum of competitive success in the Spanish Gravel Rallies Championship.
Gassing Station | General Gassing | Top of Page | What's New | My Stuff