Friday 19th November 2010
SOTW: Renault 5 GT Turbo
Max Power is dead (sort of...), long live the unmolested R5 GT T!
---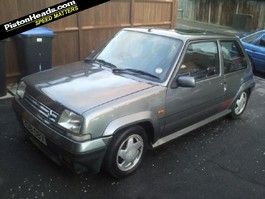 It's almost unheard of for me to shun a £1000 barge when choosing a shed, but this week the lure of a hot hatch was overwhelming. Perhaps it's a mid-life crisis, perhaps it's the happy memories of my youth, or perhaps it was this week's news that publication of
Max Power
is being 'suspended'? Whatever it is, the appeal of this Renault 5 GT Turbo has proved too strong to ignore.
Despite there being an abundance of new small hatches to choose from, they don't quite stir the soul in the way the original lightweight versions did back in the late 80's and early 90's. This was a time when cars like the 205, Fiesta, AX and the Renault 5 were the first choice for popping to the shops. It was also a time when many manufacturers started to do silly things to those shopper's favourites, sticking on bodykits, and upgrading chassis, braking and power.
While the 205GTI is the car most covet from this period, many buyers at the timewere only after one thing – a TURBO badge on the bootlid. Cast your mind back and remember oddities like the Fuego Turbo, the Metro Turbo, the Bluebird Turbo and the Piazza Turbo, all from a time when the turbo was King. As a hatch fan though, you either sat in the Ford RS camp or stood up for the 5 GTT like me.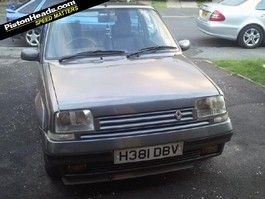 Small, fast Renaults are nothing new with a tradition of Gordinis going back for many years, but the 5 Turbo was a standalone Renault product when it was launched in 1985. The earlier (phase 1) cars were fitted with an eight-valve 1397cc Garrett T2 turbocharged engine, developing 113hp, which when added to a car weighing only 850kg translated into a 0-62 time of 7.1 seconds and all the torque steer you could handle. Visually they were more agressive than your Mothers 'Campus' edition with the usual ingredients of front fogs, alloys, sports seats and bodykit.
The Phase II was launched in 1987 and saw water-cooling added for the turbo and a new ignition system that allowed the engine to rev 500rpm higher than the earlier version. These changes increased power to 118hp but retained the lairy character of the original, wrapped up in more sophisticated, colour-coded body-styling
I have never owned a GTT myself, but I did spend plenty of time in friends' cars and I have fond memories of the French tin rockets. Firstly, you really didn't want to crash one as I don't think I have ever been in a car that feels so flimsily built, and one where you could dent the door simply by leaning on it. Secondly, I remember how damn fast these things felt from standstill and how the driver did their best to keep the car in a straight line in anything other than bone dry conditions. Perhaps my inexperience of fast cars played a part here, but I had never felt anything as fast.
Lastly I remember owners being under the bonnet more often than behind the wheel, often asking for lifts as they awaited parts or rolled their eyes at the latest engine failure. Despite all of this I wanted one (in fact, I still want one today), but finding an unmolested example proves very hard.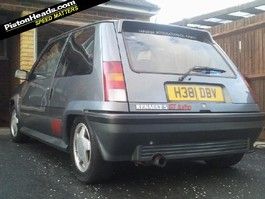 This weeks turbo-shed has miraculously escaped being adorned with Halfords 'finest' and even sports the standard-fit exhaust system. It has been lowered though, and is fitted with an aftermarket air filter, but we think a largely original 5 Turbo at £1000 is not to be ignored.
The vendor states that it's even running standard boost which is almost unheard of nowadays. What would a return to standard suspension cost you anyway? Not a lot in all probability, and once that is done you will be left with a great looking, useable hatch.
You can't deny that the 5 GTT image is lacking somewhat, largely thanks to the plethora of 'tuning' magazines encouraging you to alter the fast Five. But in the week that Max Power has admitted defeat, perhaps it's time to brush those stereotypes away and relive your youth while you still can. All we ask is that you keep it nice and standard, so it can look the way Renault intended for years to come.
Advert (as written by vendor): Renault 5 GT Turbo (1990), 83,000 miles. This is my renault 5 turbo, its done 80,000 miles has tax and mot till march next year. its compleatly standard apart from its been lowered and has an air filter. still running standard boost and all original pipe work. inside is mint with original drivers seat. it does have dents but its 20 years old.... this sun roof has been stuck shut. small area of paint has been chipped off the drivers door. had new front breaks n uprated head gasket. no part exchange. £1000 
Gassing Station | General Gassing | Top of Page | What's New | My Stuff