RE: Historic Touring Cars Set To Return
Friday 3rd December 2010
Historic Touring Cars Set To Return
This could be good - a new series for '77-'85 tin-tops
---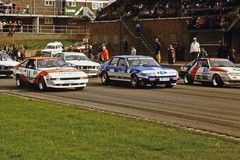 Motor Racing Legends has announced plans for a new historic race series featuring the Group 1, 2 and Group A Touring cars that pounded British and European circuits between 1977 and 1985.
The new series will be called the JD Classics Challenge, and the races will be for real race cars from the era, running to the correct period specification. To get us in the mood, they've sent us a couple of evocative pictures from the era to back up the announcement. (Which also prompted us to think this might be a good time to start a 'show us your period Touring car pics' thread...)
"We believe a lot of the genuine race cars still exist, sitting in garages, but they're not being brought out en masse as there isn't a series catering exclusively for them," says MLR's Duncan Wiltshire. "We hope to change all that. We're also looking at inviting selected cars from American series - IMSA production cars from the 1977-85 period.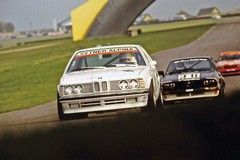 "In Europe, it was the era of TWR XJ-S and BMW 528, of Alfa GTV6, Audi Coupé and Ford Sierra XR4i, piloted in their day by such stars as Win Percy and Andy Rouse. Before that came the likes of Triumph Dolomite Sprint, BMW 3.0 CSL and Jaguar XJ 12C - not forgetting the evergreen Ford Capri."
So do we like the sound of this here at PH? Yes, we think we do!
The first race is planned for the Donington Historic Festival over the weekend of 29 April to 1 May next year. Meanwhile, who's got pics?
Gassing Station | General Motorsport | Top of Page | What's New | My Stuff