Wood Burning Stove - French Regulations ?
Hi
I want to put a wood burning stove into my house that unusually has no chimneys. The local fire supplier has said I can have a wood pellet stove (100mm flue - fan assisted) but can't have a traditional one with a stainless steel flue. If I did go for a full stove I'd need a proper chimney stack built.
Yet to find out why but suspect it could be because it's going to be hard work cutting through the two foot think stone walls.
Can anyone tell me what the French equivalent of building regs are for a wood burning stove with a proper flue please ??
Cheers
Chris
Edited by Electron on Thursday 1st January 14:14
Chris i dont know the law about stoves but have seen lots of woodburners installed with external double walled stainless steel flues.

Pellet stoves are very expensive to install and run. Log's are better in my opinion but make sure if you buy a woodburner that its big enough to take a 60cm lenth of log and dont under estimate the required kilowatt needed.

We have a Scan wood burner in our place which is a barn conversion with no chimneys. The stove is in the corner of the lounge and the chimney (tube type) goes directly up through the ceiling, through our bedroom above (where it's boxed in in the corner with air vents top and bottom), through the loft area and out through the roof where we have a "fake" chimney stack made from steel but stippled so it looks like it's rendered and it was all installed by a company called Brisach who are nationwide I believe. We've never had any problems with ours since it was installed 7 years ago and it works extremely well.

I agree with all Magoo's comments and also I can't see why the type of installation outlined by PO isn't realiseable. If you look at the Supra website (they make many of the stoves that you'll see in Bricos)
http://www.supra.fr/tout-savoir/installation-poele...
they illustrate such an installation. I understand that if the flue passes through a room that does not have the stove in it, then the hot surface must be enclosed, grills as mentioned by PO allowing a current of warm air to circulate to the room, or insulated flue as in the illustration. This is good in a country that as far as I know does not have fire guards to protect kids from stoves and fires.
From the Supra website, you will see that the relevant regulation is NF DTU 24 and you can read that here:
http://www.monchauffagebois.com/files/123660718799...
Additionally and from nearly forty years experience with woodburners:
I reinforce what Magoo said about not underestimating the killowattage required and would add not to underestimate the manufacturer's ability to exagerate. We have a 14KW rated stove in a 120 cu m moderately insulated room with an open staircase. It heats the room quickly soon after lighting and then depending on outside temperature can be burnt at a low to moderate level to maintain 20-21 degrees in the centre of the room. We use 2-2.5 (6-7.5 cu m)cords of wood each winter (Morbihan)depending on severity.
I have found freestanding stoves to be much more effective thus economic than the built in fan inserts (for renovations) and enclosed fires (for new chimneys). Place the stove on the floor if you intend to sit around it, trendy raised stove = not so trendy cold feet.
"Clearview" type stoves are nice, and commonplace now, they keep the glass clear by drawing air down into the fire through a gap at the top of the glass. If you did have a chimney fire it will be impossible to cut all draught to the fire so it is particularly important to clean the flue: the regs say twice a year, once being during the burning period, by a professional who will give you a certificate. No certificate, no house insurance if chimney catches fire.
Being both realistic and tight-fisted I and my neighbours religiously clean our flues ourselves once a year* just after the first lighting. or at the end of the burning period, and we would thus expect not to have any problems although I understand that back-dated certificates are obtainable, but at considerable cost

.
Only use well dried hardwood logs, under cover for two years is my yardstick, and never use resinous wood such as pine.
Like Magoo, I doubt the overall effectiveness (and green credentials) of manufactured and transported pellets vs logs that are on your doorstep. I understand from my neighbour that the pellets have to be stored absolutely dry; in his case, despite having several sheds, he would have had to store them indoors. If you do intend to follow that route and have to have an external flue, making a hole in a thick stone wall isn't a big deal to a pro or a capable DIY-er.
I would consult another chimney specialist if I were you, additionally manufacturers and Bricos will have a list of approved installers.
Happy and warm new Year!
Steve
no, don't even think that....

Wow - thanks all.

I plan to punch a hole in the wall behind the stove and run the flue vertically straight up an outside wall. Going up internally isn't really an option.

Good news is we have a couple of friendly builders so will ask them next.

We have a woodburner here and so will oversize as I want something I can leave to run during the day and/or overnight.

Will go read the links ..

Thanks Again

Chris

Ahh so I see where the small challenge lies
In the regs the chimney has to be .4m above the ridge peak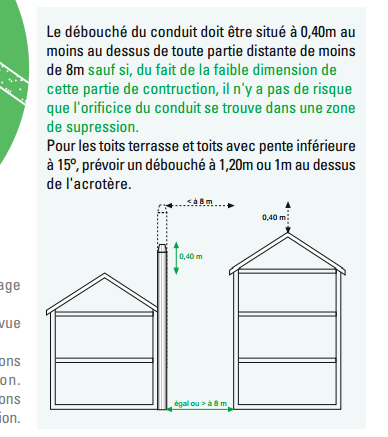 This is the other end of my house showing the high ridge. I'll need to put a couple of bends in the flue and run it closer to the peak as an exit.
https://www.google.co.uk/maps/@45.1341551,2.105763...
More conversations to be had when I'm down in Feb.
Cheers
Chris
Thats a fine looking gable end. That would be awfull with an external flue going up the outside.

Give it some more thought Chris on where the stove could go. Could it go to the left/rear of the gable? You could then construct an internal one and come out like that rear existing one but higher.











Yup front of the house is lovely and you're absolutely right about spoiling it. The rear of the house is the same gable but with the garage and a soil pipe !!
This house is spookily similar - only they have a door ...
So it looks like it can be done but I think I will have two 45 degree bends to have the pipe start further over to the left and end up near the gable peak so that there is only a small pipe unsupported.
Chris
If your concern is about someone checking it adheres to the regs I wouldn't worry to much , I've extended a house and sold it , built a new one next door doing everything myself and never had anyone inspect anything apart from the geo people who were only checking sizes .
I installed log burners in both and there's no real skill , just DIY stuff as long as your sensible about the heat aspect .
Definitely over spec the kW , it's easier to knock the heat down a little than keep feeding it logs , if you wait a little longer you should catch the end of season sales . And echo the free standing type , they work much better if you have the space , and you can put them nearly anywhere .

paulwirral said:
If your concern is about someone checking it adheres to the regs I wouldn't worry to much
We had our chimney swept last week and enquired about fitting a stove, he told us the chimney flue officially needs "Débistrage" (removal of lumps of concrete). Although not strictly necessary in our case since the flue is good, we'd need the certificate for insurance purposes. He said we could also go ahead without debistrage, but in case of a fire the insurance company would likely not pay for anything.
Nobody will check regs indeed, all depends on whether you want to cover your backside or not.
It is like most things in France,you can do it properly and be insured or wing and take the chance.Every one says you don't need this or you don't have to do that but no body will ever own up to an insurance company telling them to do one because they botched the job and did it on the cheap.

Nothing implied about your work or ability.

My house had a Radiant fire which I replaced a year back. It was plumb worn out after 25 years but was very efficient. After a few estimates and talking to people I had a new one installed and it is made by Chazelles. The grille cracked and warped, the lining broke, and it is one make I would strongly advise you to avoid based on my experience. I have a friend here who works for Leroy Merlin and sells and installs them. Told me I was a fool and that he could have installed an equivalent at half the price. So don't forget to have a look at their site before buying.


Gassing Station | France | Top of Page | What's New | My Stuff