Tuesday 14th December 2010
Video: Ford Supervan
One from the archives and, er, something for the ladies..?
---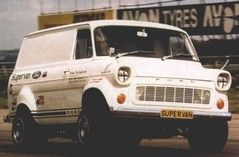 'Do you do classics too?' enquired a friendly email from Ford's heritage department. It was accompanied by a link to a charming little movie called 'Women's Page 1937', which a chap in the Heritage Department described as 'something for the ladies'. (A remark we can only assume was a satirical reference to the social mores of the time, and which has thus been awarded a 'pass' by the official PH PC O'Meter...)
Anyway, we were seriously thinking about sharing that one, when our eye was caught by another little film listing in the Ford Heritage YouTube channel - simply entitled 'Transit Supervan'.
Even if you've seen it before, it's worth watching again - so we did. Twice, actually. And if it doesn't do the trick for you, perhaps you'd be better off watching 'something for the ladies' after all. (Ed. Can we say that? Uh-oh...)
Gassing Station | General Gassing | Top of Page | What's New | My Stuff