Origins of current F1 teams
Keeping it relatively recent just to make things easier, but are there many fully fledged F1 factories (as in, the buildings themselves) that have disappeared from F1 completely?

Most of the big ones can be traced, one way or another, via the changes to team ownership (i.e. Force India > Racing Point > Aston Martin). I even realised recently that the former Marussia factory is now under the ownership of Haas as a European operating base.

My guess, without doing any research, is that the Caterham F1 factory was the last big one to completely vanish from F1/Motorsport entirely?

I know the old Toyota factory in Colonge was retained and is used as a tech centre for them and others - a few years ago Ferrari had some major aero issues where what they saw in their wind tunnel didn't align with the track and they didn't know why, so thy abandoned Marenello and went to Colonge to use the Toyota facilities.
McLaren in David Road, Colnbrook:
Still exists
https://www.google.com/maps/@51.4749138,-0.5107435...
They then moved down the road a bit, half of which still exists
https://goo.gl/maps/TkA8YB8jha3iRjYn8
The team then moved to Albert Drive, Woking. I think this is used by the automotive arm now ?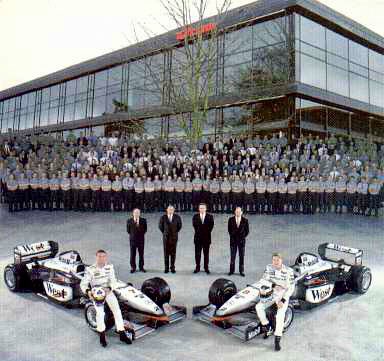 Williams used to be literally next to the cooling towers at Didcot, I can't quite place where the building was, but it seems to have gone?
Was on Basil Hill Road according to
https://www.williamsdb.com/info/williams-old-hq-at...
and
https://www.williamsdb.com/info/the-williams-museu...
Edited by Crafty_ on Wednesday 7th April 12:31
Dermot O'Logical said:
1981, although it took most of the season before they managed to actually qualify - Derek Warwick at Las Vegas, I think. I can't remember whether Brian Henton qualified for that race as well.

Toleman seemed to want to do F1 the hard way - monoblock turbocharged Hart engines and Pirelli tyres when nobody else was using either, and so Toleman were a brand new team, developing new technology, in an era when turbo'd 1.5 litre engines were way more powerful than the alternative 3-litre NA option, but went spectacularly wrong at an astonishing rate. The only redeeming feature was that the car was designed by Rory Byrne, but the packaging of the whole thing meant that it was not a thing of beauty - one of the early incarnations was nicknamed "the Belgrano".
Toleman had established relationships with both Pirelli and Brian Hart. Probably was more difficult/expensive to do another way. The monoblock was Harts way of keeping the engines together.
The similarity between Toleman and Spirit was more than skin deep. Both of the first cars were based on the teams F2 cars. The big wing forward of the rear wheels came later
Gassing Station | Formula 1 | Top of Page | What's New | My Stuff