RE: Video: Key fob reprogrammers steal BMW in 3 mins
Monday 2nd July 2012
Video: Key fob reprogrammers steal BMW in 3 mins
Why car theft using sophisticated key programming devices is a problem that won't go away
---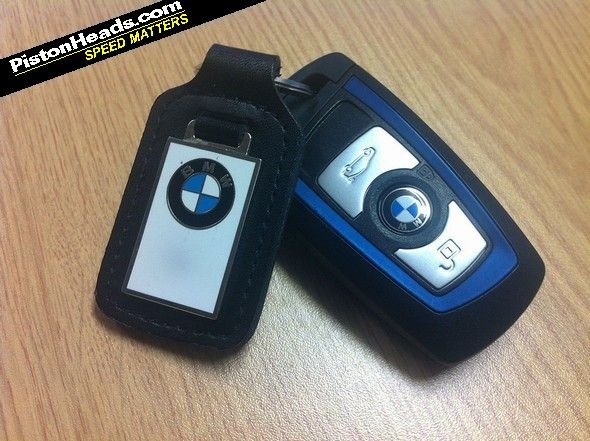 Recent chat on the PistonHeads forums about
a worrying trend in the theft of BMWs with electronic keys
has gained new traction as a PHer has posted a CCTV video on YouTube of his BMW 1M Coupe being stolen within three minutes.
PHer 'stolen 1m' (we see where they're going with that username) had their £43K M car stolen from their driveway when thieves smashed a small area of window glass in the car without activating the alarm and used a diagnostic device to reprogramme a key fob through the OBD port.
But a quick internet trawl reveals it's not just BMWs that are vulnerable. Devices similar to that used on BMWs are also available for Opel, Renault, Mercedes, Volkswagen, Toyota and Petrol-engined Porsche Cayennes.
The Society of Motor Manufacturers and Traders (SMMT) recognises the problem is a wider issue, though, telling us that they are working to tighten up the procedures for getting hold of these devices, in order to minimise the risk of them falling into undesirable hands. They also say that the industry is working on the technological side of the issue, with companies like Thatcham in particular liaising with police on ways to battle this technological crime.
The reason this form of theft is currently so rife - and admittedly this issue is not limited to BMWs - is that European competition rules require diagnostic and security reprogramming devices to be available to non-franchised garages. As we understand it, this effectively means that car companies cannot restrict access to or use of OBD ports.
Unfortunately it also means that, to a certain extent, the hands of car companies are tied, hence BMW can still only tell us that that they are "aware of recent claims that criminal gangs are targeting premium vehicles from a variety of manufacturers. This is an area under investigation. We have a constant dialogue with police forces to understand any patterns which may emerge. This data is used to enhance our defense (sic) systems accordingly. Currently BMW Group products meet or exceed all global legislative criteria concerning vehicle security."
Gassing Station | General Gassing | Top of Page | What's New | My Stuff