RE: Renault Clio V6: PH Carpool
Monday 7th December 2015
Renault Clio V6: PH Carpool
Unable to find a suitable replacement for his first Clio V6, this PHer had to get another!
---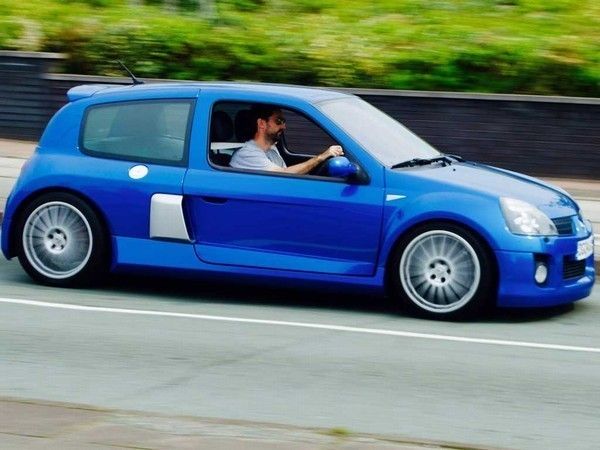 Name
: Chris Williamson (Chris V6 255)
Car
: 2004 Renault Clio V6 255
Owned since
: October 2014
Previously owned
: Suzuki Ignis Sport, Citroen C2 VTS, Renault Clio 172 x4, BMW Z4, Renault Clio V6, EP3 Honda Civic Type R, Subaru Forester STI, Volkswagen Golf GTI Mk5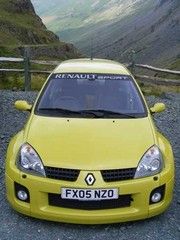 Acid Yellow car left a lasting impression!
Why I bought it
:
"It all started back in 1999 at the Paris motor show; a friend of mine showed me what can only be described as a caricature of a Renault Clio with a 3.0-litre V6 where the back seats should be! 'They will never build that,' I recall saying. Boy am I glad I was wrong.
"In 2003 the facelifted 255 was released, addressing most of the issues associated with the Phase 1 car and boosting the power by 25hp. Having read all the reviews and long term tests I knew I had to have one someday. Fast forward to 2015 and I am now in my second stint of Clio V6 ownership.
"After selling my first Clio V6 back in 2009 - with much regret, I might add - I had fleeting affairs with other cars including Clio 172s, an EP3 Civic Type R, a Forester STI and a Mk5 Golf GTI. All really great cars in their own right (the Golf is the best all-rounder I have ever owned) but none could hold a candle to the V6.
"So that was it, the hunt was on for another one. Having previously owned the ultimate 'look at me' Acid Yellow Clio V6 I decided that now I was a little older (but not necessarily wiser), I couldn't live with something so in your face. I wanted something more subtle (if you could ever class the V6 as subtle) so I went for the iconic Illiad Blue; it's the colour using on all the Phase 2 sales literature.
"Once I had made up my mind I began patiently stalking owners through the forum looking for a prime example to pop up. A long-term owner and friend contacted me about his cherished car up in Scarborough; the deal was done soon after and I couldn't be happier."
What I wish I'd known:
"Being a previous V6 owner I had a pretty good idea of what I was getting myself into. I hadn't appreciated how rare parts had become to get hold of though. As with most limited run cars, bespoke parts can become harder to source over time. I do find myself being overly cautious sometimes with the thought of a potentially big bill for a relatively minor scrape. OEM bumpers are £1,700 (rear) and £900 (front) for example, if you can find them."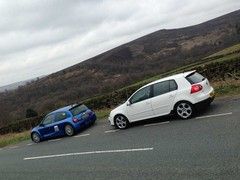 Golf was a great all-rounder; Clio certainly not that!
Things I love
:
"The first thing that strikes you are the looks; this thing looks like it is travelling 100mph without even turning the key. From the huge air intakes and its bulging hips to its 18-inch alloys tucked inside its enormous arches, it's pure theatre from every angle! I only have to open the garage door and look at it to put a huge grin on my face.
"I love people's reactions to it; they stop and stare, take photos everywhere it goes. Even the most mundane trip to the shops turn into an adventure, people staring in amazement as you put the shopping under the bonnet. It still amazes me how much attention the car gets, I often wonder how can a car based on such a humble little hatchback get as many admiring looks as a supercar?
"I haven't even got to the noise yet! Turn the key and you are met with the distinctive V6 burble, blip the throttle and you are treated to a deep growl. Once on the move the noise is fabulously addictive as the V6 sings right up to the 7,500rpm limiter.
"The fact that this is going on right behind your head makes it all the more special! There has been a lot written about the handling dynamics; with such a short wheelbase, ridiculous turning circle and most of the weight in the rear it certainly feels unlike any other hatchback I have ever driven. In the dry it isn't the handful it has been made out to be in the past, however it certainly demands respect in damp conditions.
"I genuinely feel like I am driving around in a piece of motoring history! In a world of low capacity turbocharged engines we are never going to see the likes of the Clio V6 again. Renault should be applauded for the fact that this car even exists. A special mention has to go to the guys and girls on V6clio.net. I can honestly say that being a member on there has most definitely enhanced the overall ownership experience. The wealth of friendly advice and information available is invaluable if you are seriously considering Clio V6 ownership."
Things I hate:
"There's not a lot to dislike really, but the interior is the only real downslide to the car. Get into the driver's seat and you could be forgiven for thinking you have sat in a 1.5DCi as there are very few hints that you are sat in something out of the ordinary.
"It's only when you look behind you and see the bulkhead where the rear seats should be or the first time you catch a glimpse of the huge arches in your wing mirror you start to feel like you are sat in something pretty special. The ridiculous turning circle can become tiresome at times; three-point turns are a no-go and parking is awkward at best."
Costs:
"Running costs are relatively cheap for a car that has got more in common with a mid-engined supercar than a Clio. Fuel consumption isn't an issue for me as it isn't a daily driver, but an average of 22mpg over the past 12 months shows it's pretty thirsty!
"Servicing is at the same intervals as the standard Clio, 12,000 miles or every two years and cambelt change every five years or 72,000 miles, whichever comes sooner. The cambelt service is a labour intensive job however due to the engine location. Access is restricted and best practice is to drop the engine out to work on it. It is also worth considering replacing the clutch while the engine is out. All in you are looking at around £1,500 for the job. OEM discs can also be expensive but there are aftermarket alternatives such as AP Racing discs which come highly recommended."
Where I've been:
"I haven't covered many miles this year but I've taken full advantage of the local area with trips around North Wales and the Peak District being particular highlights.
"I have promised to make a conscious effort for it not to become a garage queen and get more miles on the clock next year. I'm looking forward to attending next year's Silverstone Classic and Origine RS event at Goodwood with the Owners' Club. It would be rude not to try and get a trip to Le Mans in at some point too."
What next?
"The Clio V6 is going nowhere! I honestly can't think of another car that comes close for the money. It truly is a mini exotic and destined for classic status! Would I change anything about the V6? Possibly a set of 182 Trophy Recaros to lift the interior but the plan is to keep it as standard as possible.
"A little TLC is required over the winter months while the car is SORN. I intend to book the car in for its second cambelt service with our resident V6 specialist Scott at SG Motorsport. I am however looking at replacing the wife's Mk5 Golf GTI at some point next year. Having a company car for ferrying the kids around means we can look for something a little sportier. I've been looking at a Porsche 996 C4S, but I think my other half has her heart set on a new V8 Mustang..."
Search for a Renault Clio V6 in the PH classifieds!

---
Want to share your car with PHers on Carpool? Email us at carpool@pistonheads.com!
Gassing Station | General Gassing | Top of Page | What's New | My Stuff