RE: 2022 Mazda MX-5 (ND) | PH Review
Tuesday 10th May
2022 Mazda MX-5 (ND) | PH Review
Mazda says it has altered the MX-5 in a way you probably won't notice. Obviously we had to try it
---
No doubt about it, seven years of MX-5 ND production has flown. No generation of Mazda's two-seat roadster nameplate was ever short-lived, but even the first (and most famous) NA variant only clocked up eight years at the sales coalface before being replaced by the NB. The current model will have to carry the torch a good deal longer than that, it seems; Mazda has tacitly confirmed that the MX-5 will still retain a place in its product line-up come 2030 - but in the meantime the manufacturer must consider how best to electrify it. No small challenge given the firm's admirable devotion to minimising mass wherever possible.
Of course, the ND has already been treated to one significant update. Four years ago, Mazda overhauled the 2.0-litre Skyactiv-G engine with the express aim of extracting more power from the naturally-aspirated unit. Thanks to upgraded camshafts, exhaust valves, fuel injectors, throttle valve and air intake, where once there was 160hp, there was suddenly 184hp. Not a prodigious amount perhaps in the grand scheme of things, although handy enough to reduce the 0-62mph time by nearly a second.
In comparison, the model revision for 2022 is no more than a tweak. Digging impressively deep into the marketing phrase book, Mazda has come up with something called Kinematic Posture Control. Specifically that means the car is now capable of applying a minuscule amount of brake pressure to the inner rear wheel during cornering, with the intention of suppressing body roll. Because we're mostly talking about software code here, the feature is deployed range-wide, meaning there's no categorical need to fork out £30,360 for the 2.0-litre Sport Tech trim driven here if you're simply in it for KPC boasting rights.
Nevertheless, we suggest you do. The entry-level 132hp 1.5-litre version has its interesting quirks, no doubt - but with paint-drying slowness still among them, it isn't really recommendable unless you're definitively unconcerned with pushing on. We can double down on that advice in good conscience because its punchier brother could hardly be said to deliver knock-out blows to your solar plexus when the lights turn green. No need to labour the point - the MX-5 has never, ever been sold on the basis of searing straight-line speed (it is precisely this facet which keeps firms like BBR GTI in business), and the 2.0-litre motor is perfectly fine, amenable even when you consider how well-matched it is with the chassis. But a Porsche Boxster it ain't.
Would we really want it to be? Probably not. Although perhaps it's worth reiterating just how unlikely the MX-5's constituent parts seem when viewed close-up in 2022. Longstanding familiarity might have taken the edge off, but it's not until one is parked back outside that you recall just how pocket-sized and low-to-the ground Mazda's roadster really is. Two adults comprehensively brim the tiny cabin, and, if either of them are middle aged, getting in and out will likely be punctuated by the spine-troubling groans. If both have arrived with a beverage, you'll have already exceeded the car's capacity to accommodate cups.
If you're above average in size, it is conceivable that you will have exceeded the car's capacity to accommodate people, too. Your correspondent is 5'8" on a good day. Alongside a Caterham 7 and an economy airline seat, the MX-5 is one of the few places that suggest this is plenty tall enough. And while the interior is generally an object lesson in natty design, you won't appreciate having to fold your arm back to fiddle with the infotainment controller, nor use a conventional handbrake when Mazda might have saved some much-needed space by fitting an electric one.
Naturally, a diehard MX-5 fan would tell you to stop whinging and get driving, and that's a fair point. Because once you're settled and have dealt with the fabric roof in a single gratifying sweep of the wrist, the reasoning behind the sardine packaging is crystal clear. Driving the current MX-5 is like going outside in shorts and t-shirt after spending six months wearing thermals and an overcoat. It beguiles you with ease of use and a newfound appreciation of your surroundings. Obviously it helps if the sun is shining - but even without it, the tiny dimensions and modest control weights make for a very easy steer. As it has done for generations, the little Mazda still has an uncanny way of alleviating the impression that driving - even the in-traffic, slow-speed stuff - is an inconvenience.
Presented with an open road, it duly ramps up the pleasure. It needs no additional mode or setting to do this, you simply drive a bit quicker. Once at the national speed limit, all previous misgivings about the MX-5 are a distant memory. Mazda's insistence that the ND be as close to metric tonne as possible pays dividends everywhere; certainly it accounts for the carte blanche attitude to suspension tuning, the wheels being permitted an incredible amount of obstacle-defying leeway. As ever, you bob along on top of a terrible B-road in an MX-5, blithely aware of its challenges, but not hindered by them one little bit.
And the KPC? Well, let's just say you'd need to have driven the old model very recently to appreciate a significant difference. Back-to-back, ideally. Mazda would argue that's a good thing - it says it wasn't looking to dramatically alter the MX-5's character - and we're inclined to agree. If the car is very marginally flatter through a fast corner, then great, but the vast majority of buyers won't need to obsess about the tweak. Certainly there's no additional temptation to become better acquainted with the model's (admittedly very approachable) limit. The real joy is still located in the MX-5's capacity for conveying raw driving pleasure at moderate, hair-ruffling speeds. In this respect, it remains a wonderful achievement - one that its maker will almost certainly struggle to replicate when retirement finally beckons.
---
Specification | 2022 Mazda MX-5 (ND)
Engine: 1,998cc, four-cyl, naturally aspirated
Transmission: six-speed manual, rear-wheel drive
Power (hp): 184 @ 7,000rpm
Torque (lb ft): 151 @ 4,000rpm
0-62mph: 6.5secs
Top speed: 136mph
Weight: 1,052kg (DIN)
MPG: 40.9
CO2: 155g/km
Price: £29,400 (price as tested: £30,210)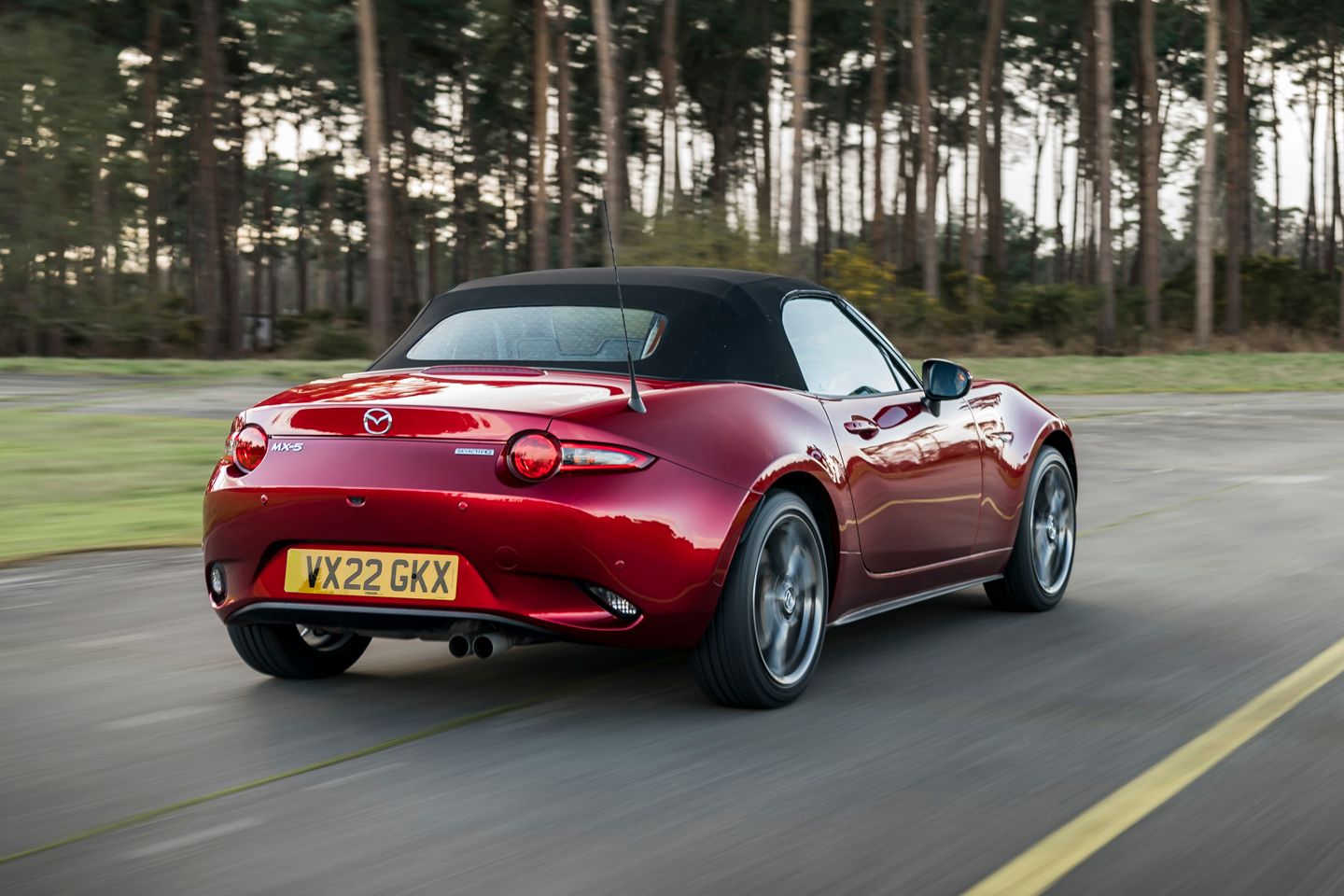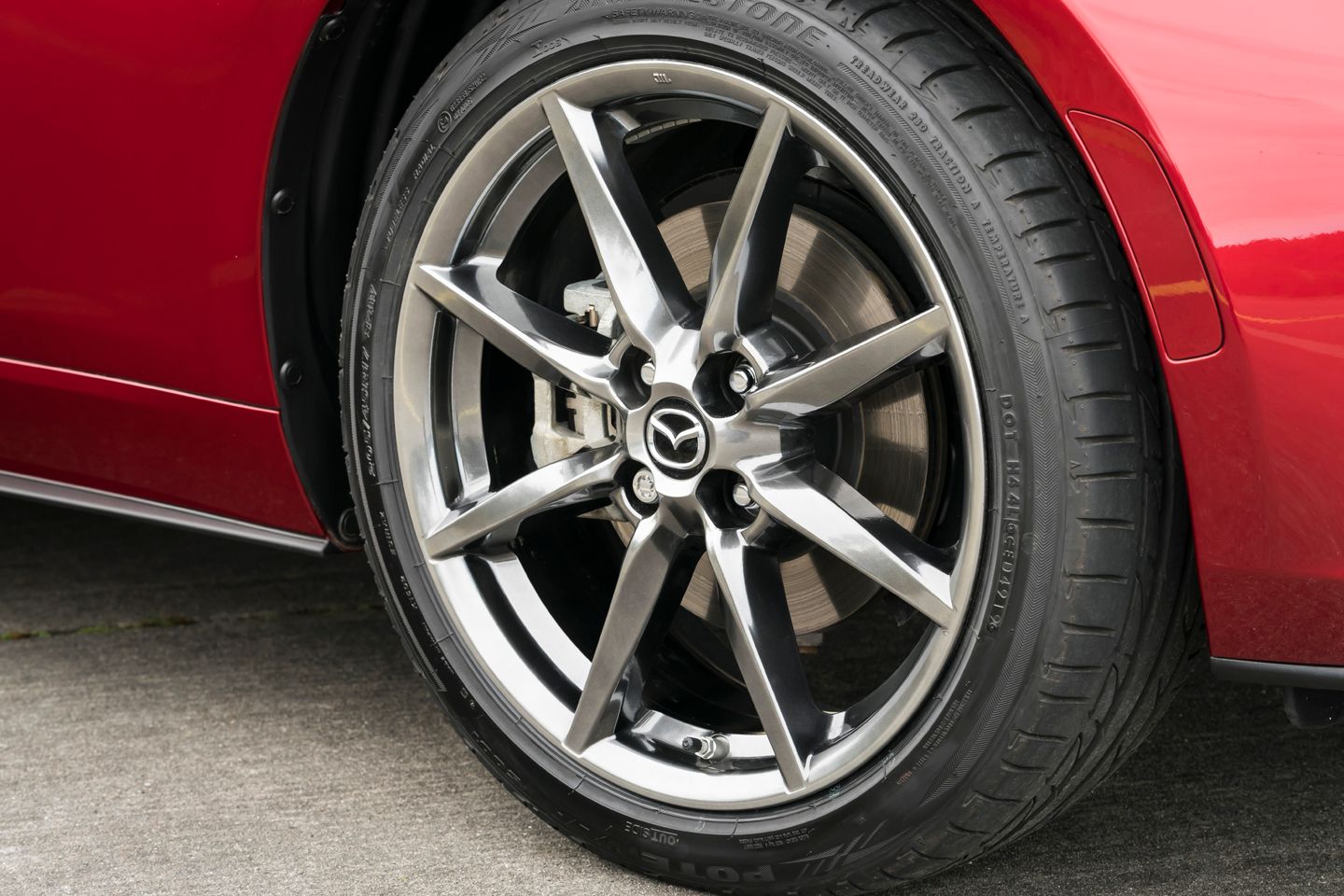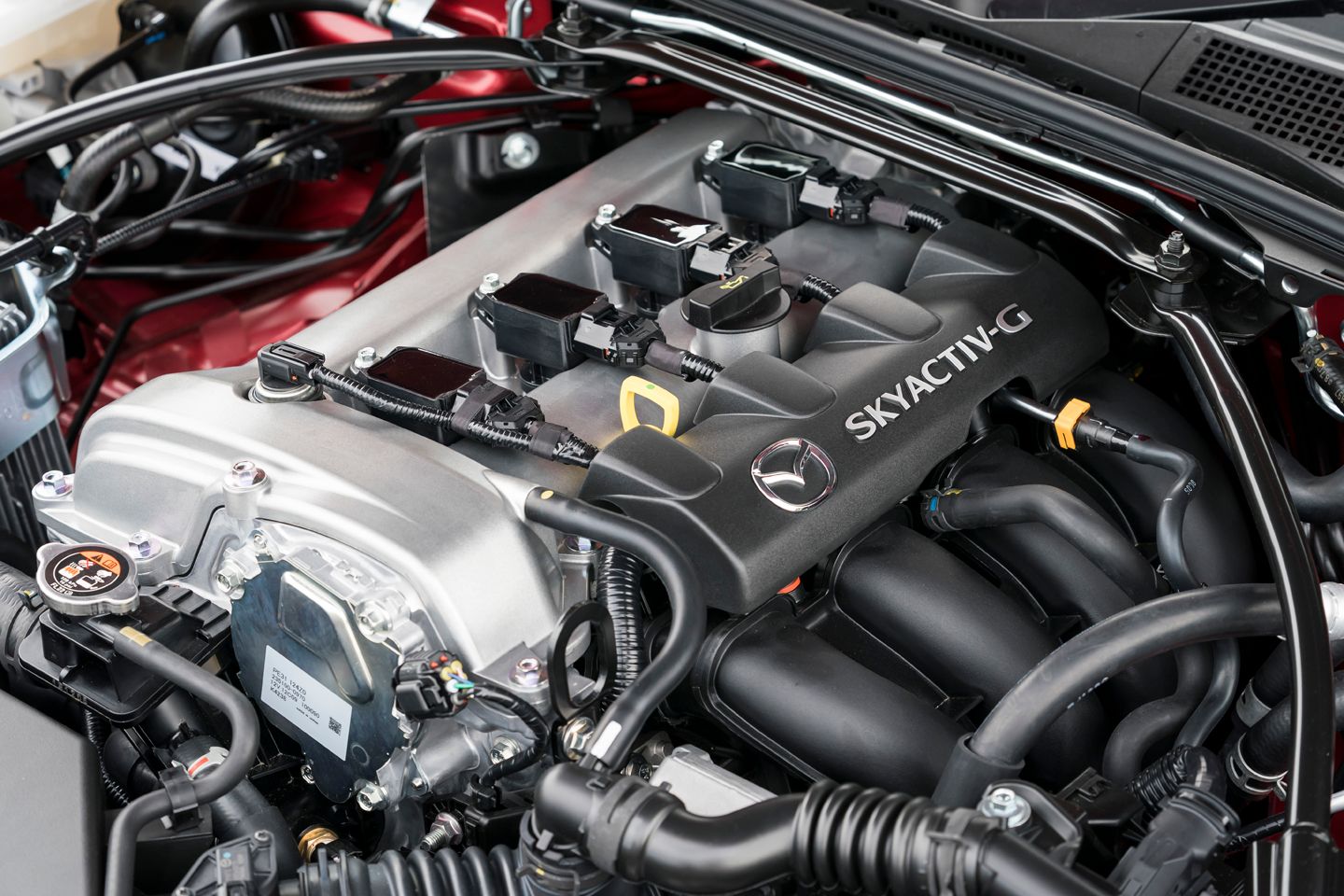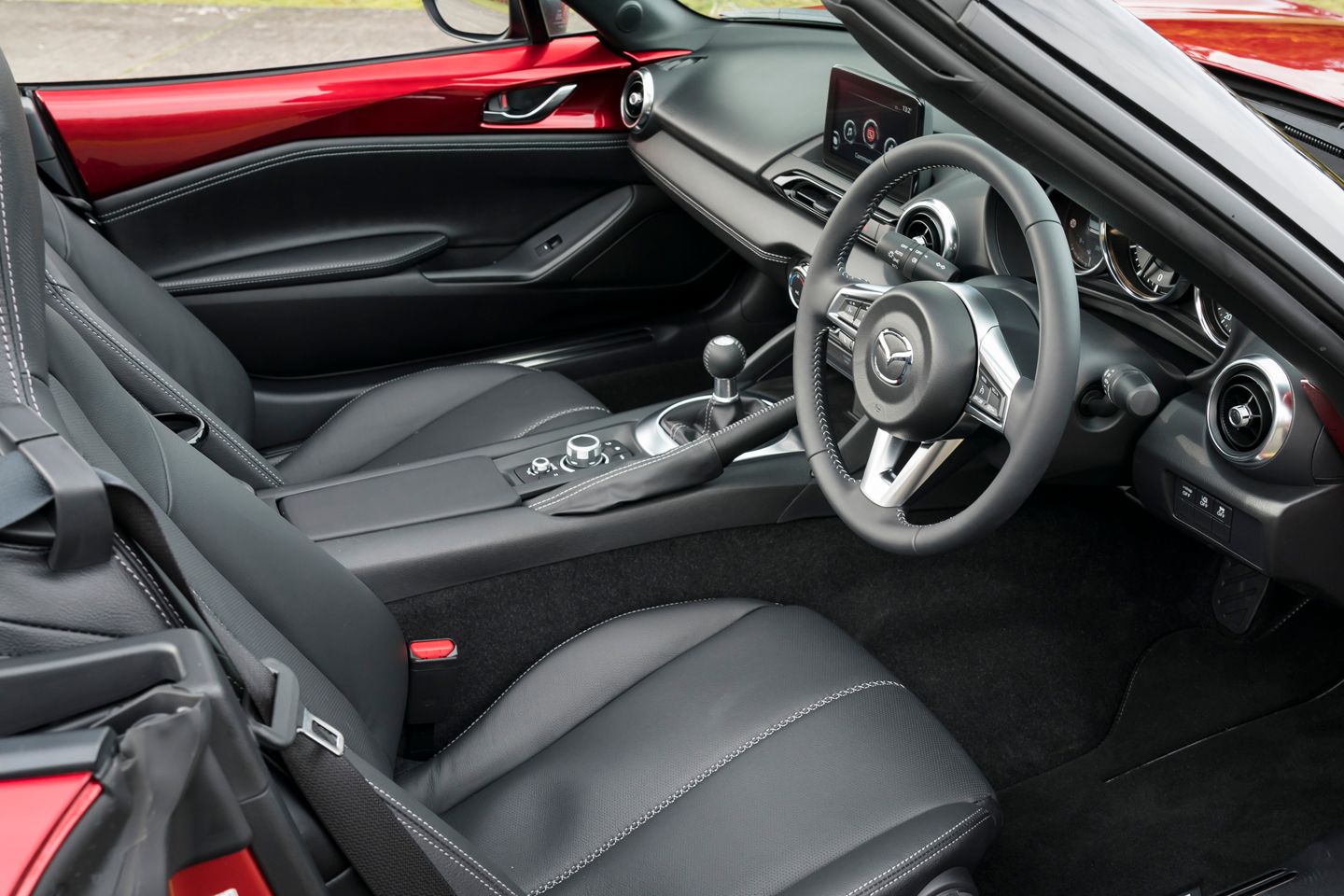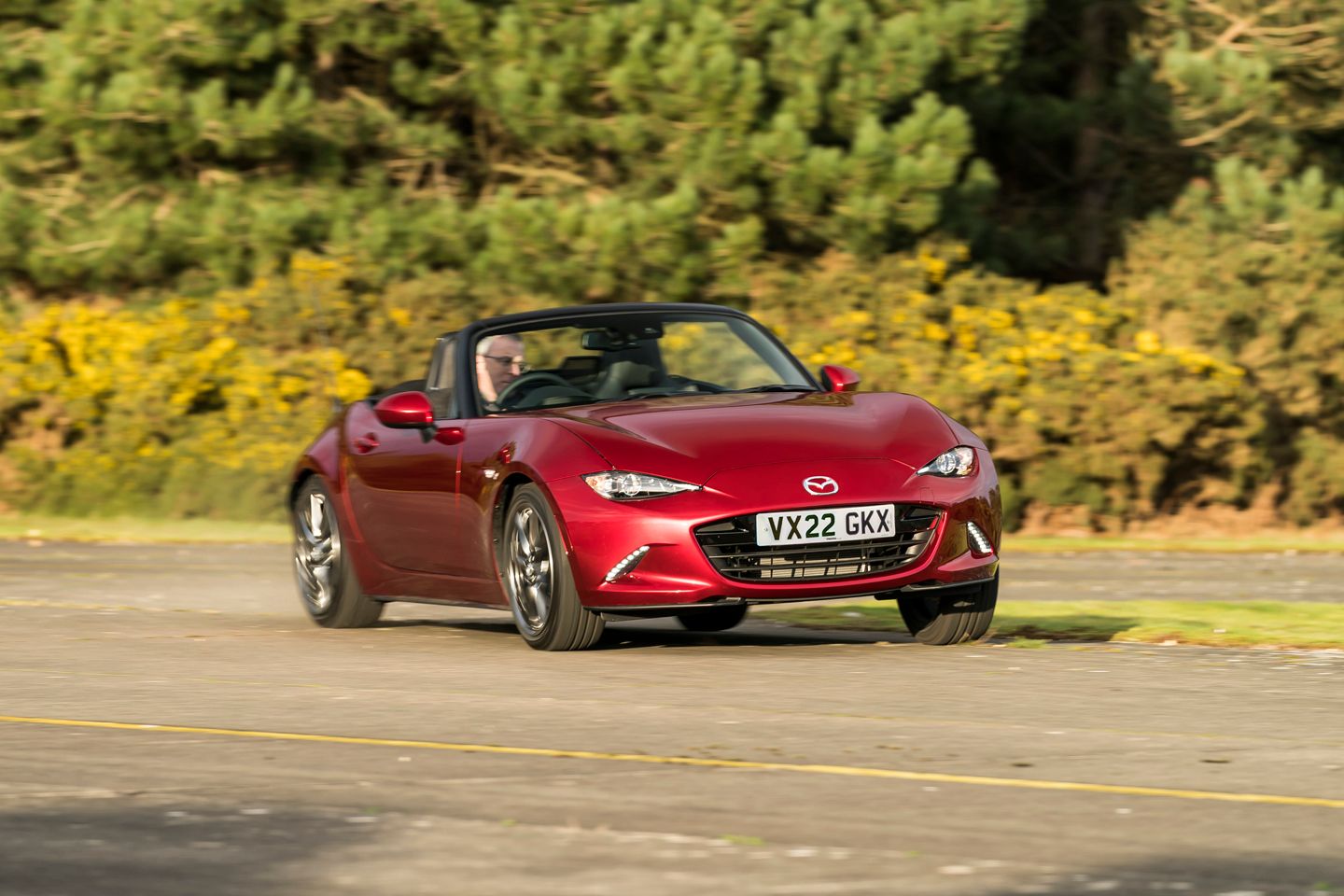 Gassing Station | General Gassing | Top of Page | What's New | My Stuff