RE: Merry Christmas From All At PistonHeads
Friday 25th December 2009
Merry Christmas From All At PistonHeads
Another year has almost passed us by, it's been emotional...
---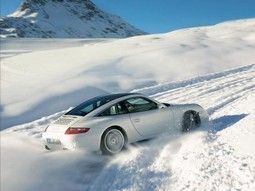 Better than sitting on the sofa all day
It's not only the Queen who enjoys reminiscing about the passing year on Christmas Day, here at PistonHeads we enjoy looking back too - and what a year it's been.
Can you believe that it is now 11 years since Ted created PistonHeads, 6 months since we were sitting in the sun at Le Mans, almost a year since the PistonHeads Show at the NEC and around 4 months since 335d (mapped) was funny? How time flies when you are having fun!
As many of you will have seen, the site continues to grow and we now welcome 2.6 million unique users to PH every month, and deliver 280 million page impressions over the same period. As traffic grew the clever duo of Racing Pete and Mr Will implemented the rather lovely and appropriately timed PH mobile site helping us become ever more accessible.
Not long after meddling with all that technology we decided to go back to good old- fashioned paper and created PistonHeads: The Best Bits 2009 and by providing great 'bathroom' reading it means we have now taken PH to places it has never gone before (hopefully). We also think we are the first to take a website like ours into print (is there another one like ours?), a bold move indeed but one that we enjoyed making and one that we hope you enjoy reading too.
Sunday Service meetings started attracting 400 cars in 2009, making them one of the most successful motoring community meets ever, with fantastic venues such a the Rolls-Royce HQ at Goodwood and Mercedes-Benz World. It certainly means that we have a lot to live up to next year to improve on this, but we already have a few ideas for you to look forward to!
In addition to the car stuff, PHers have assisted many with their marriage troubles, helped others to attract a date, even paused to take a photo of their dinner before eating it so they can post a picture on the forums. It's stuff like this that makes the site unique, and such a great place to hang out.
So from all of us here at PH 'head office', we wish you a very merry Christmas. Thanks for your support and for making it so much fun. Here's to a great 2010 and we'll see you in the New Year.
Gassing Station | General Gassing | Top of Page | What's New | My Stuff