RE: Japanese Car Makers Back 200mph Eliica EV
Tuesday 9th November 2010
Japanese Car Makers Back 200mph Eliica EV
30 companies stump up $250k investment each for Eliica electric tech
---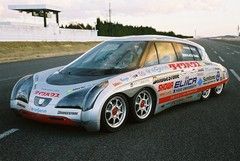 This is the Eliica concept car. It's got eight wheels (each powered by an individual electric motor), can reach 50mph in just 4.0secs and tops out at 200mph. It also costs $5 million (£3.1m).
It sounds utterly bizarre, but it seems that 30 companies, including Isuzu and Mitsubishi, have some faith in the car and its creator Hiroshi Shimizu - they've chipped in $250k apiece for a slice of the project.
Mind you, that's not merely so that Shimizu's company, SIM-drive, can put the Eliica into production. As interesting as an eight-wheeled, 200mph electric car is, what's really getting Shimizu's investors going is the promise of a 'conventional' four-wheeled electric vehicle due to be unveiled in January.
That car will, if produced at a volume of 100,000 cars a year, could be built at around $25,000 (£15.5k) and will allegedly possess a range of 200 miles on a single charge.
It all sounds very worthy, but we'd rather see the Eliica in production - if we have to have an electric car, it might as well come with eight wheels and a 200mph top speed, after all...

Gassing Station | General Gassing | Top of Page | What's New | My Stuff