Interesting ideas and recommendations for my garage...
Good afternoon,
I'm taking a month or so off working on the house as to be honest I'm shattered. Have turned my attention to the garage now I've finally managed get it (mostly) clear of moving junk. It's a decent single (20' long x 10' wide) but I have a lot of stuff to store!
My last garage was a barn, and to be honest I'd like something completely different this time around - I'm thinking white walls, nice floor, spotlights etc. Ideally with just a roll cab, workbench and the Pembleton. Maybe some nice pictures on the walls etc.
However it still needs to be usable as a workshop - I've got the rest of the house to renovate, plus planning to change the engine and wheels on the pemb before summer. I need access to saws etc, yet ideally keep them out the way.
Had a successful day today and cleaned it out, and added a couple of sockets etc. currently looks like this:
The radiogram will go, and I think I can move the lawnmower when I create some log storage in the rear courtyard. The drawers are full of drill bits, saws, clamps etc, so somewhere needed for that lot. The smaller drawers have car parts in. The large cupboard is full of paints, fillers and just general DIY stuff. On top of the dark drawers are boxes of fixings which also need a place.
The roof area is high but full of timber, but I was thinking about boarding (something cheap? ply?) and making a little ladder for access to the right of the workbench.
Idea for size with the car in. I only need enough room to work round the 3 wheeler - I can't ever see a full size car going in there (although I do have a hankering for a Caterham 160 at the moment...).
The key point though is that whatever I do needs to be cheap - all my money is going on the house refurb - this is just a project to keep me away from the house for a bit!
All ideas welcome,
Phil
You'll need to watch the weight if you store stuff in your roof, it's really not designed to take much more than the roof.

I would get some timber, masonry anchors and host hangers and build a platform to take the weight. Looking at the space, if you want to keep it organised, lift storage is going to be important. I have a winch so I can get heavy stuff up result, £10 on Gumtree.

For your tools, loads of shallow drawers under your bench will get the maximum space efficiency . a full width bench at the back that uses the walls as support would probably be the best use of the space too.

I'm in the middle of a similar project, for the same reasons, and have sourced lies of stuff on Gumtree, barbers shop lights have been a great buy, I've a mix of 60 x 60 panel lights and those spots that take 2x energy saving bulbs, paid about £60 for enough to bathe a 5 x 9 m space in light.

You'll obviously need audio etc, TV, amp, speakers and a Chromecast are the way I've gone.

Flooring, I'm just fitting a vinyl floor, which a kind PHer donated to the project, looks far better than those interlocking tiles I think and will take a car fine, yours looks light anyway!








Have bookmarked this as I always enjoy what folks do with their garages on a budget. The big money (to me anyway) installs using Dura cabinets etc. always look fantastic, but the interest to me is the creativity in trying to do these things without breaking the bank.
As you have got a good length (fnar fnar) I personally would try to make two separate 'spaces'. One for the car/bike and another for workshop/storage. Get some heavy duty racking if you can find something within your budget constraints. I quite fancy one of these for example:
http://www.costco.co.uk/view/p/whalen-4-tier-77-19...
Admittedly not cheap, but at 900kg PER SHELF, you can store pretty much everything on. Deck it out with plastic curver bins from wilko or poundstretcher for plenty of organised storage. Then a couple of workbenches, one for any bench mounted tools, another as a work surface and a pegboard on the walls to hang tools from.
Depending on how long the pemb is, I'd be tempted to arrange them in a U shape so that one side effectively becomes a divider between the two areas?
Buy some cheap trade white matt emulsion and paint the walls white with 2 coats, it makes a huge difference to the look and feel. If the vinyl flooring doesn't work out you could paint it with
Garacoat
. I've done my existing garage and the one in our old house with it and it's lasts pretty well. I'd leave it until Spring though as it's best done when the temperature is around 15 degrees.
Evening,
Sorry for the lack of updates - I've been working on the house and the garage has taken a back seat really.
I'll do an abridged version of the last few months:
1) Bought and fitted chipboard flooring which makes a useful roof storage area (about 1/2 garage width at the moment).
2) Got three bays of this cheap from ebay:
3) Had a good result from Gumtree. Ikea P.S locker and sideboard cabinet for £40. The only snag = a trip to the depths of Hull. Could be worse though. Maybe.
4) Read about a million PH threads about painting blockwork and invested in a £18.99 HPLV electric sprayer from Amazon. It worked okay, especially for a mist coat as it had to be thinned by about 50% to get through the gun. For the next coat I just got on with a roller. After 1 spray coat and 1 roll:
After another coat with the roller and spraying the mortar again:
To be honest it still needs another coat, but I'm pretty fed up of painting so will just leave it and spend tomorrow getting the rest done. 5L of paint down, another 5 to go!
Next jobs:
Finish painting
Finish boarding the roof
Decent flooring
Racking up
Finally use it to get my new 19" bike wheels on the 3 wheeler...
Phil
Evening,
Little update for the sabbath: few bits and bobs to do but it's looking okay really...
Finally managed to do some work in there too:
Still a few jobs to to - finishing boarding the roof, fit a ladder for access, lights do something with the floor to name a few. I'm pretty happy with the transformation considering it's been a budget job. I think only about £150 spent so far which I'm pretty happy with.
Phil
Hard work getting the blocks painted up to a good standard isn't it!. I recently painted out one of my garages which has a rear brick wall and two breeze block side walls. I used Sandtex exterior paint (brilliant white). I used a brush to cut in and a roller for the first coat. Wow, it was left in dire straits. The rear brick wall coated up really nice after one coat but after two coats the breeze blocks were still showing through as the blocks were bitty and had a very rough surface. I wouldn't be beaten so I dabbed every block with a brush and although time consuming I'm very pleased with the outcome!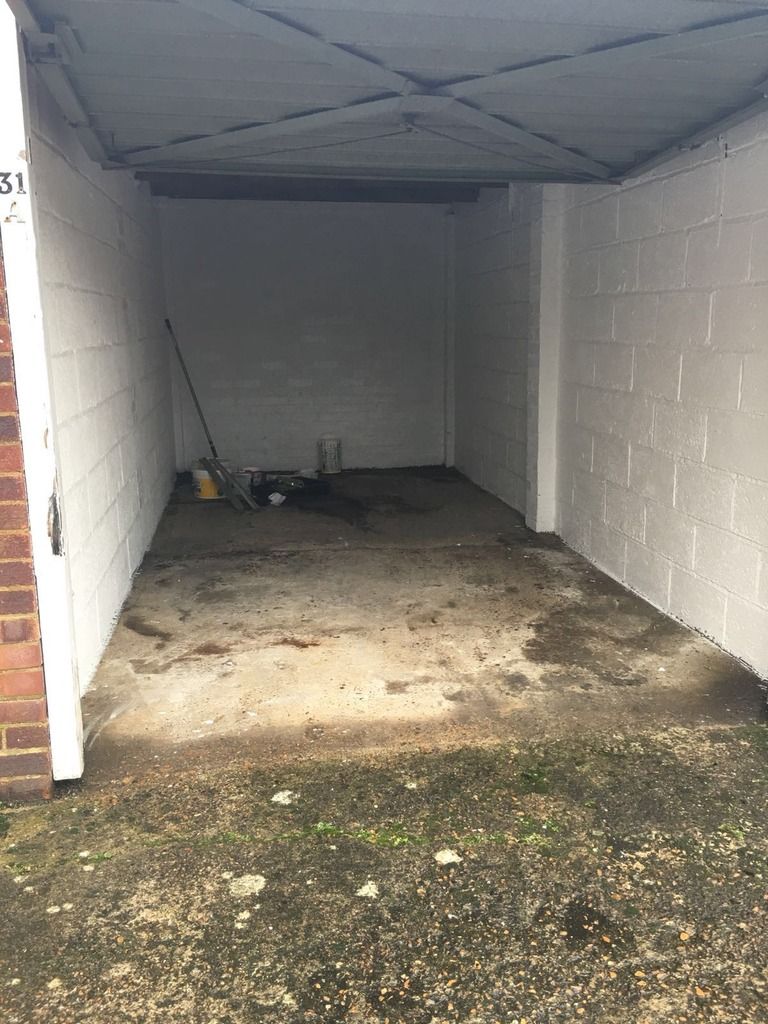 Gassing Station | Homes, Gardens and DIY | Top of Page | What's New | My Stuff