Toyota's new Le Mans car - official pics and spec
Wednesday 25th January 2012
Toyota's new Le Mans car - official pics and spec
Le Man's first hybrid is officially unveiled
---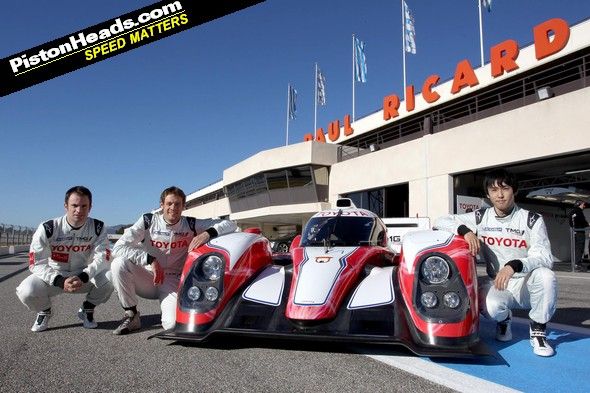 Following the
release of a couple of grainy images of its new Le Mans challenger
, Toyota has now gone ahead with the 'proper' unveil, giving us official images and the full spec of its new endurance racer.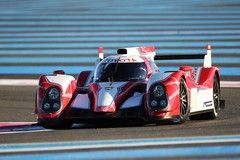 Key things to know are the fact that the TS030 ('third Toyota Sport Prototype' - it follows on from the TS010 and TS020 projects of the 1990s) is the first hybrid LMP1, but that its exact set-up is yet to be confirmed.
The petrol part will definitely come from a 3.4-litre V8, but since regulations state that the electric motors can only drive one set of wheels, Toyota is yet to decide which axle will get an electric boost - it's looking at a rear-drive system made by Denso, or a front-driving one supplied by Aisin AW.
The carbon fibre chassis, on the other hand, has been an in-house piece of work by Cologne-based Toyota motorsport GmbH - that would be the lot that previously created and ran the Toyota F1 team.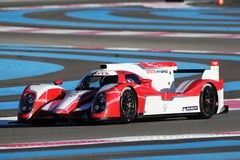 The new car will make its debut at the second round of the new FIA World Endurance Championship - the 6-hour race at Spa on 5 May - with Alex Wurz, Nicolas Lapierre and Kasuki Nakajima at the wheel (though not at the same time, obviously). There will be a second car at Le Mans, but that line-up has yet to be announced.
So there you have it, the first - and so far only - hybrid Le Mans car. Though rumour has it that Audi is working on its own hybrid competitor...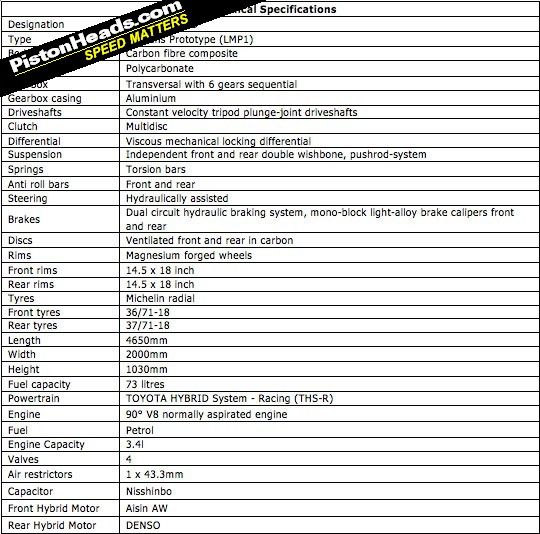 Gassing Station | General Motorsport | Top of Page | What's New | My Stuff