Friday 23rd September 2016
Fastest Honda ever!
Less 'yo!' and more 'eco' as 660cc Streamliner hits 260mph at Bonneville
---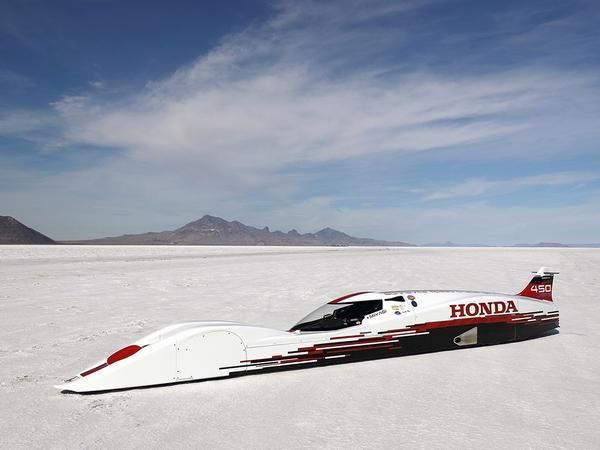 Now while it's approaching the weekend, we assure you that those statistics are correct: Honda has created a car capable of 260mph with a 660cc engine. That's just witchcraft, isn't it?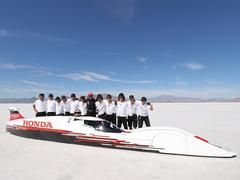 Frustratingly no power figure has been released for the S Dream Streamliner, only that the engine is "based on the three-cylinder powerplant designed for the
Honda S660
sports car." Given it produces 63hp in that car, this must be a pretty significant overhaul. Apparently Honda was aiming for "more than three times the power for which it was designed", replacing the block, pistons, crank and valves, but a specific number has not been issued.
The car has been in build since 2015, with Honda set on the outright 660cc world record. Having in fact failed to achieve this during Bonneville Speed Week, the Honda team was invited back by Mike Cook for another attempt. The final results from these runs were 261.875mph record for the mile and 261.966mph for the kilometre. From 660cc!
So Honda now has the 660cc world speed record, plus the S Dream Streamliner can claim a notable feat for its manufacturer too: this is the fastest Honda ever made. The previous record was held by a Honda-BAR F1 car, driven at Bonneville a decade ago to a speed of 246.983mph. That's progress for you. And there's not a mention of VTEC in sight...
[Source: Jalopnik]
TurboHatchback said:
"replacing the block, pistons, crank and valves"
So basically the whole engine then

, seems a rather tenuous relationship by that point. Still an impressive technical achievement.
True, but that does leave the rods and head...
Given the production rods are likely cast however I guess they must have gone in the bin, presumably along with the production turbo.
So must likely it's a production head assembly which is fairly impressive although I'm sure the ports have been tickled too!
What they're essentially saying is that the engine geometry is the same as the original which is still an impressive achievement as you say.
Gassing Station | General Gassing | Top of Page | What's New | My Stuff