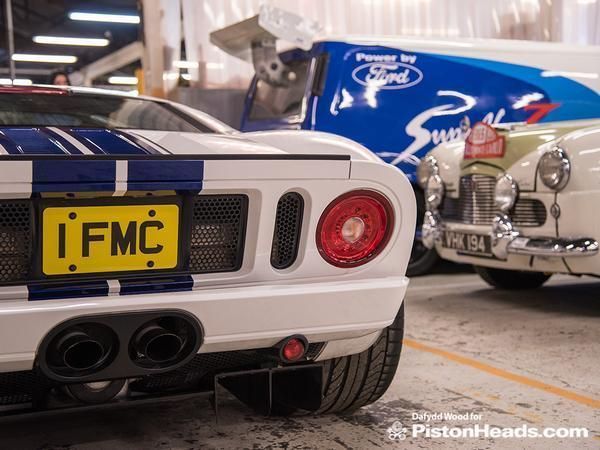 'Unassuming' is probably the kindest way to describe Ford's Heritage lock up at Dagenham. Tucked away in a tricky to find industrial estate, there are certainly no external cues that it houses such a fantastic collection of cars. Well there normally isn't, but yesterday Ford had brought out the flags (and some Mustangs) to ensure that PHers didn't simply drive past...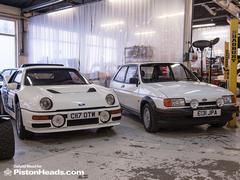 Inside there's everything, from a Model T to a new Focus RS. For fans of the brand, indeed for car geeks in general, the Heritage Collection is an absolute treasure chest of four-wheeled jewels - what a privilege to be allowed in!
All the cars inside had been unlocked by Ford, allowing PHers to get inside the incredible variety of cars. If you had forgotten just how far we've come in terms of perceived quality (and how far back we've gone as far as visibility is concerned), then a couple of minutes in a classic will remind you! Old cars smell amazing too, don't they? An odd point perhaps, but the combination of wood, leather and vinyl in certain classics creates an aroma new cars will never reproduce.
Anyway, to the actual cars. When there are three RS200s in one building you know it's a good collection! Particular highlights included one of Bjorn Waldegard's Mk2 Escorts, a lovely Capri 280 Brooklands and one of the very first Focus RS Mk1s, cars which seem to get better looking by the day.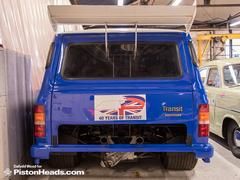 That's just the start though. There were Corsairs, Cortinas and Cosworths of all varieties; Transits from before they were Transits, Transits with F1 engines and Transits for the rally stage; Fiestas from through the ages and Escorts too. That's before mentioning the GT, the original Mustang, the Sierras and the Zodiacs. For such a small place there's plenty packed in!
We hope that those PHers who came along enjoyed the morning as much as we did - there are certainly worse ways to spend a Sunday morning! If you have any additional photos we'd love to see them. A huge thanks to Ford for allowing us access to the collection, and for laying on food and drink as well. Hopefully we speak for all involved by saying it was a great morning.
[Photos: Dafydd Wood]