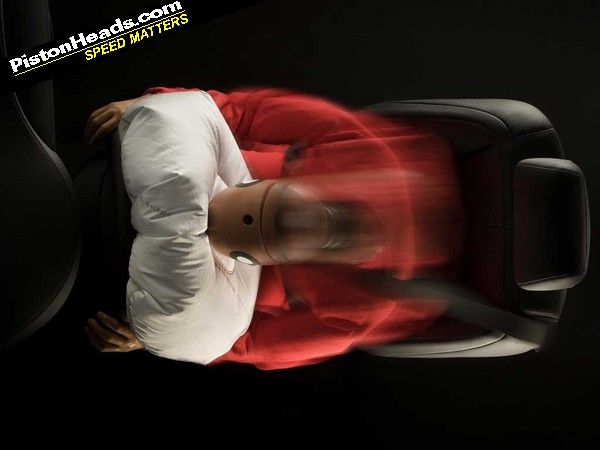 The chemicals in your airbag can kill. That was the verdict from the South Tyneside Coroner, who concluded a motorist died after inhaling toxic substances from a split airbag. The unfortunate driver, engineer Ronald Smith from near Sunderland, got caught up in a six-car shunt near Hartlepool in November 2010. The airbag went off and immediately punctured after the window in his Vauxhall Insignia smashed in the accident.
He survived the crash, but died in January 2011 after being taken to the hospital complaining of shortness of breath. The cause of death was bronchial pneumonia, with the forensic pathologist saying his lungs showed signs of infection.
Coroner Terence Carneyblamed the airbag. "This man died as a result of this incident and more pointedly because of the explosion of his airbag."
So what's in an airbag that makes it so toxic? His widow June told the Daily Record that Smith had been shocked by the amount of white powder released by the bag. "He said there was so much of it he couldn't see," she said.
Airbags rapidly inflate with gas created by igniting a chemical called sodium azide. About a handful this white crystalline powder is needed to inflate a big airbag, and is extremely toxic.
So toxic that the effects of ingesting it have been compared to cyanide. In a book by US crime writer JA Jance, the murderer rips apart cars in a scrap yard to get the killer substance, which is also used to make pesticide.
We asked UK automotive safety organisation Thatcham about the potential problems airbag chemicals could inflict. Miniscule, they reckoned. "The danger of inhalation is extremely small," said a spokesman.
They did say however that the chemical originally used before this, nitrocellulose, was even more toxic and also highly flammable.
Smith was about as unlucky as you can get, but with up to nine airbags fitted to newer cars, it makes you wonder just how much of this deadly stuff we transport on a daily basis.