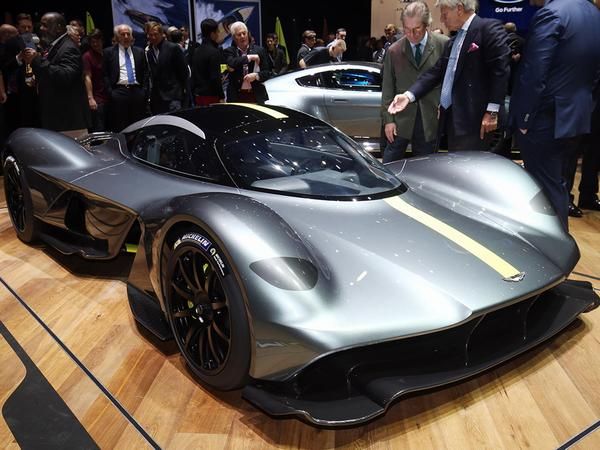 If you're going to build what's billed as the world's fastest car it helps if it's got a properly scary name, right? OK, AM-RB 001 is all very techie. But by choosing the name Valkyrie for its Red Bull supported and
Adrian Newey designed hypercar
Aston Martin is both following in the tradition of its 'V' naming strategy and evoking some badass characters from Norse mythology. In this case the female gods deciding who lives and who dies in battle.
It's getting closer...
By now you're probably also humming Wagner's Ride Of The Valkyries, famously used to soundtrack the helicopter gunship attack scene from Apocalypse Now and chosen by Robert Duvall's Lieutenant Colonel Kilgore for its... intimidation value.
"While its name is rooted in ancient mythology, the Aston Martin Valkyrie is a pure expression of modern technology. By bringing together Aston Martin, Red Bull Advanced Technologies, project partner AF Racing and some of the world's leading technology partners, the Aston Martin Valkyrie promises otherworldly performance befitting of its name," says the press release.
"Aston Martin model names have deep meaning," confirms the firm's Chief Creative Officer Marek Reichman. "They need to inspire and excite. To tell a story and enrich a narrative that stretches back some 104 years. The Aston Martin Valkyrie is an incredibly special car that demands an equally remarkable name; an uncompromising car that leaves nothing in reserve. The connotations of power and honour, of being chosen by the Gods are so evocative, and so pertinent to a car that only a fortunate few will ever experience."
As confirmed in our story about the project's technical partners, the Valkyrie will have a 'one to one' power to weight ratio of one hp per kg based around a Cosworth-built, 6.5-litre naturally-aspirated V12. We'll be expecting some sort of electrical assistance to that and a total power output involving a four-figure number to deliver on Newey's promises of LMP1 car performance from the 25 track only versions to be built. These will be joined by 100-odd road cars, some customers reportedly ordering one of each to cover all bases. Starting price is £3m, deliveries start in 2019 and there's every chance you're already too late if you want one.