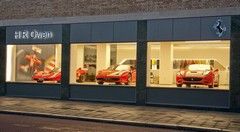 You know you how the OH says you take 'em for granted? Well, you do, and it's time you were big enough to admit it.
So next time they sniff a bit about turning the spare room into an archive for your collection of old Custom Car mags, or grumble about that amphibious 'Stolly' 6x6 you're returning to concours condition on the kitchen table, why not try to give a little back for once?
We suggest a trip 'Up West' to Knightsbridge, where PH OHs can fill their boots with umpteen floors of fashion and frivolity at 'top people's' stores like Horrids or Harvey's Nick-Nacks.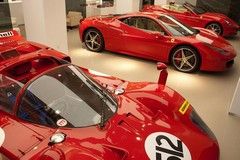 Better still, tell 'em they can bring a friend, so while they're cooing in the fitting rooms of London's top retail outlets they won't even notice you've slipped away...
You'll be making a beeline for the Berkeley Hotel, of course, where HR Owen has just opened (with the help of Felipe Massa), this rather eye-catching new showroom.
They don't call it that, for some reason - instead it's an 'Atelier', with a dedicated 'personalisation room' no less, modelled on a similar one at the Ferrari factory in Maranello.
Currently displayed are a Ferrari 458 Italia, a Ferrari California, and a very special 1970 Ferrari 512S which was driven by Mario Andretti and Chris Amon at Daytona and Sebring before being driven by Derek Bell in the film Le Mans. Fever!
Having feasted your peepers, you can slip back to the chair outside the fitting room unnoticed - then hopefully repeat the trick at the new McLaren showroom at One Hyde Park, as your shopping party makes delighted progress down the Brompton Road.
P.S. Don't tell anyone PH sent you. Especially if you all turn up at once...
P.P.S. In case the OH hasn't realised why you need a Stalwart.