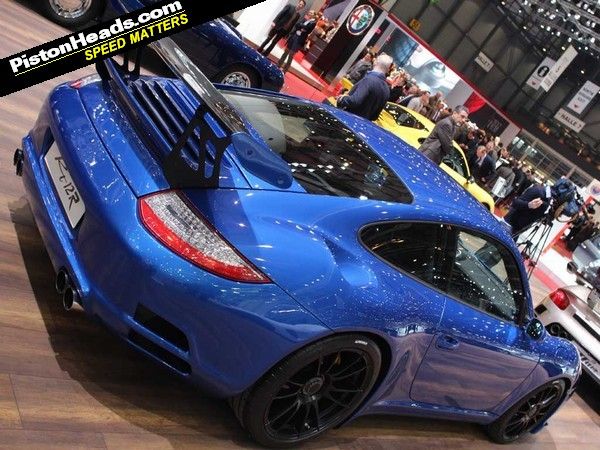 So welcome to my liveblog from the Geneva show, a chance for a more informal, behind the scenes glimpse of the first big industry event of the year. As ever, updates will run most recent first.
Happy reading!
Dan

---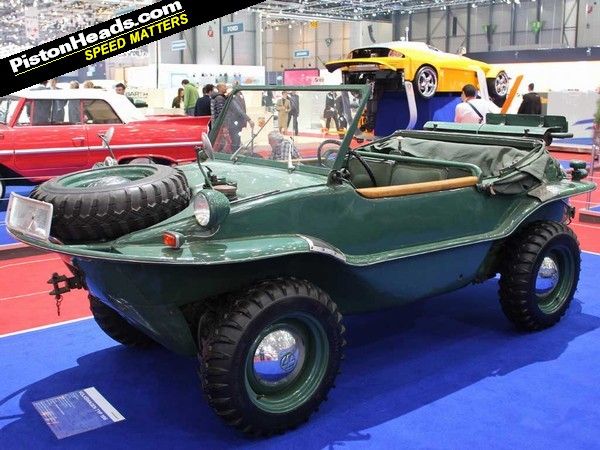 Geneva airport, 1230h
A much more productive few hours at the show actually talking to people and looking at cars, with a whip around the top end where all the exotica lurks. More on this shortly. And along the way a few unusual finds, like this amphibious VW Schwimmwagen (spot the German logic in the naming of this vehicle) playing a supporting role to the Rinspeed display. My car of the show, without hesitation! There's a great bit in Small Wonder, Walter Henry Nelson's fascinating history of the VW Beetle, describing how British soldiers under Major Ivan Hirst used to let off steam around the bombed out Wolfsburg plant in Schwimmwagens they'd 'found' on site. The done thing was apparently to speed along the side of the canal that runs by the plant and then straight off the quayside and into the water. Which sounds like a great fun and proved an ideal way - along with a few drinks - to distract the inquisitive French who came to visit in search of factory machinery they could take away as reparations.
I digress.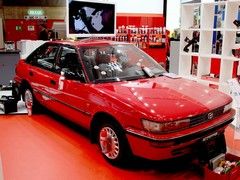 Oddities lurk in the Hall 7 trade area...
Nearby I got chatting with Mrs Ruf about the
recent Genii investment
by long-standing Ruf customer Gerard Lopez. Exciting times for the company as it stands to supply running gear to supercar start-ups like
W Motors
but also a time to take in some of the products still bearing the Ruf name. Like the fabulous looking 750hp, 997-turbo based RT12 R. And is Alois Ruf still running round in his old Mercedes E500? Yes, says Mrs Ruf. With 400,000km on the clock the seats feel a little saggy these days but other than that the old Merc is still going strong.
Time running out I had to recover my bag from the Kia stand and quick march to the adjoining airport. This took me through Hall 7, previously uncharted territory for me and the trade area for tools and workshop supplies. A different world from the glitz of the main show this immaculate old Toyota Corolla on the Wurth stand caught my eye. Not a car I'd have ever lusted after but kind of cool all the same and an absolute minter.


---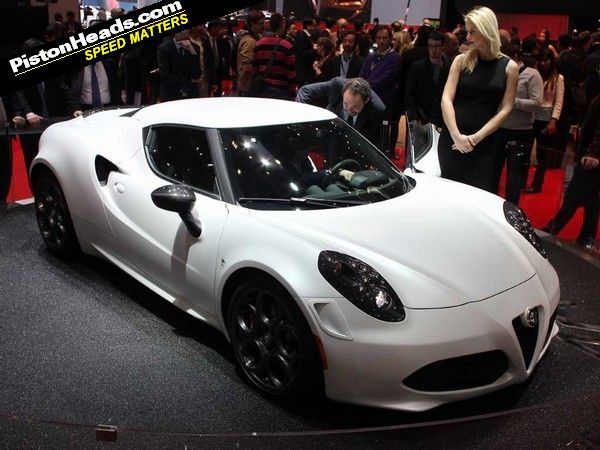 Geneva Palexpo, Mercedes stand, 0900h
Back at the show, back at Mercedes and back on the coffee and wired internet! But not for long. While the rest of the Kia party slumber I and a couple of others have come back to the show with the quaint ambition of wandering around and looking at some cars! Such is the way of covering shows that this, ironically, is the last thing you're able to do on press day so I always enjoy a return visit once the initial madness has died down.
Goals for today? Well, there's a whole bunch of carbon fibre-based exotica up the other end of the show I had to dash past yesterday. The Paganis, the Koenigseggs and the Spanos and that lot. Then the mad tuners too.
But my first job is some schmoozing of Alfa Romeo. I didn't really get near the 4C yesterday and amid the fug of excitement over The Ferrari and the McLaren I think it merits a closer inspection. Which is what I'll do right now!


---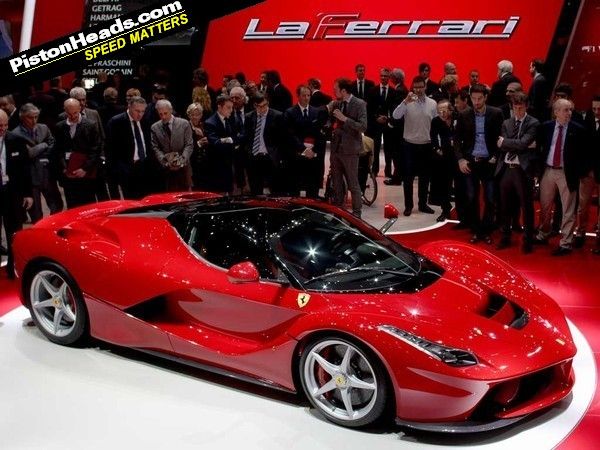 The bus back to the hotel, 1800h
That's it, no matter how many more espressos I knock back I think the energy levels are now fully depleted so I'm glad to be bidding the show farewell for the day, if regretting the fact there's loads on my hitlist I didn't get to see properly. Maybe a return visit tomorrow is in order but we'll see!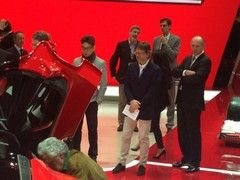 Ron Dennis and Gordon Murray both dropped by
I seemed to spend a lot of the afternoon on the Ferrari stand, which was an achievement in itself given the scrum to get on. Basically it's a lesson in trial by humiliation with a crowd pushing around the one entrance to the stand, guarded by stony faced Ferrari stuff trained to ignore anyone pleading 'my friend, he is customer' in a Russian accent. Unfortunately you have to try and get past this scrum to even stand a chance of catching the eye of anyone but once you're accepted and on the stand it's a very different world of tanned gents with slicked back silver hair, the murmur of Italian and - at last - a glimpse of LaFerrari. New-school supercar it maybe but the atmosphere and clientele are very much old-school and the people watching is almost as fascinating, Gordon Murray seen leaving the stand just as I arrived.
No bones about it, the car's a stunner too. Especially from the head-on view, the surprisingly narrow and teardrop-shaped cockpit making it look surprisingly neat and small. There's a further story about our visit too but that's for another day. Suffice to say, it was worth fighting our way through the crowd. And I stand corrected - they could have sold twice the number they're building, or so I was told.
Going straight to McLaren from fortress Ferrari was an interesting culture shock too. And a lot calmer. The P1 is also stunning, but very, very different in feel. More on this in a standalone story shortly.
A dash back across the show to the lift home took me running by lots of interesting tuner and supercar stuff, meaning a return visit tomorrow probably is in order. But not until I've had a bit of kip!


---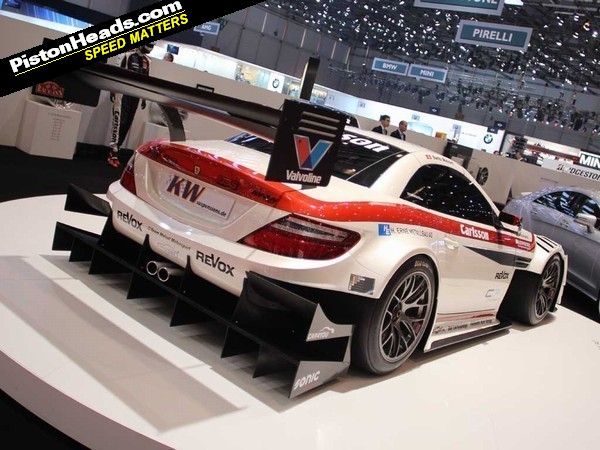 Geneva Palexpo, Mercedes stand, 1230h
The experienced motor showgoer quickly learns where the best sources of trade fair essentials are tucked away. Namely decent coffee and a stable internet connection. Both, it seems, can be found at Mercedes, and thanks to their quaint system of internet via wires (it'll never catch on) I've been able to get some pics uploaded to keep our stories up to date.
This included a trip to the Ferrari stand, arriving just as Luca di Montezemolo was getting going. Well, I'm assuming it was him, I was far too late to get anywhere near the actual stand; however,the disembodied voice over the speakers sounded like his characteristic Italian waiter impression and was convincing in its sense of gravitas and drama. Fair play, too: at the moment the covers came off those who could actually see the thing burst into applause and whistles of approval. Back at Mercedes, and online, I got a call from Stuart to say he'd managed to get a snap of Ron Dennis thoughtfully scrutinising the car. As well he might. I've not made it over to McLaren yet but I'll be interested to see what the level of buzz is over that side of the show.
I did catch sight of this on my way back to Mercedes though – a mad-looking SLK hillclimb car built by Carlsson for Meisel Motorsport. With 610hp and weighing just 780kg it looks like a bit of a monster and has been built for E1 category hillclimb competition. Great looking thing!
---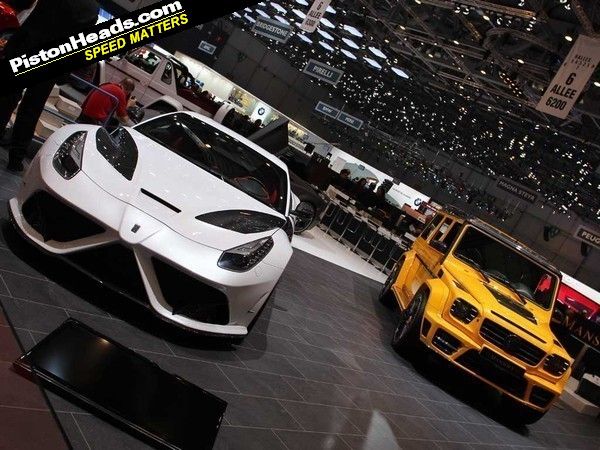 Geneva Palexpo, 0900h
A brutally early start with an 0630h bus to the show at least meant I got a run round the halls before the crowds descended, snapping what wasn't under covers before the battle of the sharp elbows begins in earnest. Sadly The Ferrari was still under its (satin, natch) sheet but even in this form it looks pretty damned good. A couple of hours from now we'll see it out in the open...
In the meantime an opportunity to dip into a couple of press conferences, including BMW's ("He didn't say anything interesting," according to the UK PR man!) where we heard about the i3 Coupe Concept and plenty on the 3 GT. And you thought it looks challenging in the photos...
Then next door to Mercedes for some desperate courting of the youth vote with Usher joining Dr Zee on stage to present the A45 AMG, following some nice boys dancing in AMG race overalls. Nor us. "On one hand a true AMG, on the other there has never been an AMG like it," said Dr Zee, after some forced to and fro with Usher. "Some might say a four-cylinder AMG is like blasphemy but the proof is in the driving." We'll hold you to that, a chance meeting with AMG man Tobias Moers shortly after offering hope of that. More on this in due course.
And what are those monstrosities in the opening pic? You probably guessed but that's the annual shockfest that is the Mansory stand. The Ferrari F12-based beauty is the Mansory Stallone, a 'feast for the eyes' according to Mansory. ECU and exhaust mods liberate 775hp, up from the standard 740hp. Hopefully the former is loud enough to drown out what people will say when they see you driving it.
---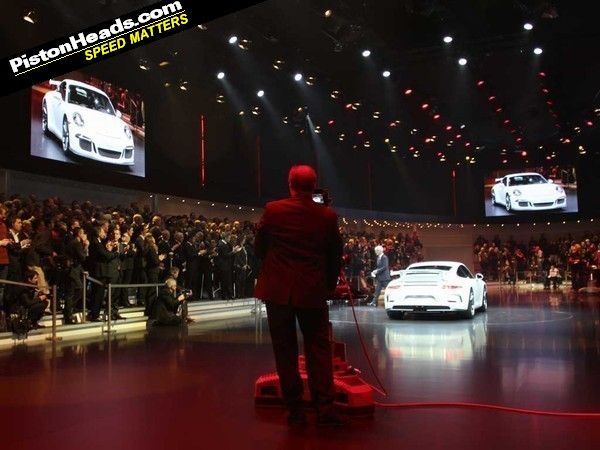 Geneva, 2230h
So, I've been to another VW group preview evening and lived to tell the tale. The basic formula for these events is cram about 1,000 journalists and execs into a venue suited to about half that number, pay due respect to Herr Dr Professor Piech and his lovely wife and then draw breath during 30-second laser shows that break up the conveyor belt of new metal paraded before us. All of them 'sportlich' too. All of them. Was that a new Audi? Looked like it. But no, it didn't have any chrome on it. Must have been Skoda. No, hang on, somebody said 'Hola!' ... SEAT then? It was and it was a three-door Leon SC. Like an old A3 with some creases, basically.
Guys like Lamborghini's Stephen Winkelmann have it easy too. Throw a bit of Italian around. Point at new supercar, bask in the glory and then exit stage left. Then the poor sod from VW commercial vehicles turns up and tries to excite the crowd about the new hybrid Transporter while Twitter crashes as people tell the world they've just seen the new Lambo.
Then the battle of the sharp elbows as the cars come out again and everyone tries for that exclusive photo. You end up patiently stalking your prey and then some lump in a suit stands in front of it. You huff and tap them tersely on the shoulder, they turn round and, oops, it's Ulrich Hackenberg or Wolfgang Hatz or someone similarly high-ranking. Respect meanwhile to Audi boss Rupert Stadler for using the word 'uberholprestige' in relation to the new RS6. Yes, the Germans have a word for aggressive fast lane bullies and in Audi speak it's nothing to be ashamed of.
Then our ride turned up and the Germans glared at the Korean interloper in their midst. Who let that Kia in here? Phaeton or not, it's heading to Lausanne and bed before our 6am alarm call to hit the show tomorrow. See you there!


---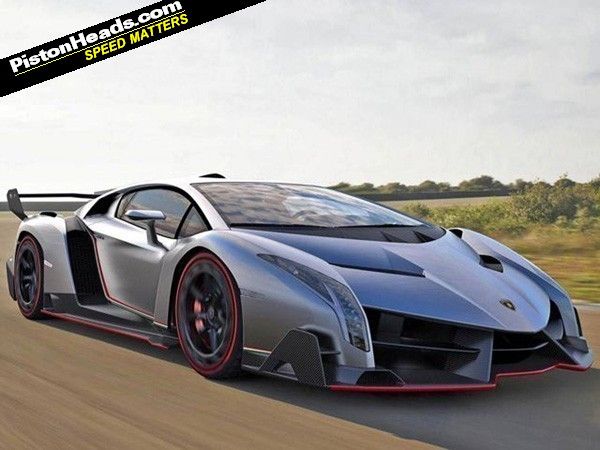 Lausanne, 1700h
So this is it - the PH Geneva show nerve centre. Glamorous, eh? I'm here in Lausanne courtesy of Kia, keen to impress us with both its GTI-chasing Pro_cee'd and
hot-hatch Provo thing
. Never one to miss an opportunity for outrage and indignation the Daily Mail is
very cross
about the Kia's name, subtly putting a picture of it next to an old school IRA action scene with the headline 'The car called Provo: New Kia model set to take on the Mini under fire for its IRA-linked controversial name' in case you hadn't got the point already. Our hosts (hosts also to the author of the Mail's piece!) seem relatively chilled about it, subscribing to the no such thing as bad publicity school of PR and pointing out it's got their concept some prime time coverage.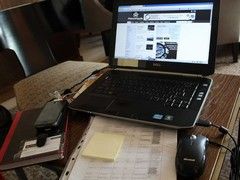 The PH nerve centre, ready and raring
It's not just the Daily Mail that's cross either. I was sitting beside the man from the Sunday Times as he attempted to deal with the fallout from the leaking yesterday in the paper of
the Lamborghini Veneno
. And it sounds like Lamborghini is VERY cross.
As I write I'm awaiting my ride to the VW group preview evening and word on the street is the Veneno won't be there. Lamborghini has press released information about an Aventador LP700-4 Rosso Mars (nor us) and an Aventador Roadster coming to the show, studiously ignoring the fact everyone already knows about its big news.