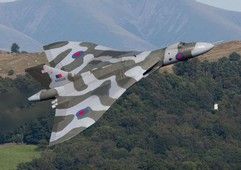 Phwoooarrrr! (Words are not enough.)
The
Vulcan To The Sky Trust
keeps dropping press releases pleading for donations to help keep the wonderful XH558 flying, and we can't just keep ignoring the issue. They need £323,000 by the end of the month apparently, and as we're living on stale bread and water at PH HQ waiting for an expenses cheque to clear, we thought we'd pass the problem on to you guys...
For those of you not fully up to speed, here's a brief backgrounder from the latest release:
"The Avro Vulcan is an iconic example of British aerospace engineering at its world-beating best. The design brief was issued by the MoD in 1947 and the plane flew for the first time in 1952, just eleven years after the first flight of its predecessor, the Avro Lancaster. Its impressive list of technical achievements includes being the first successful large delta wing aircraft (leading directly to Concorde), innovations such as anti-lock brakes, and an agility that was so close to a jet fighter's that it was given a fighter-style control column in place of the traditional bomber pilot's yoke.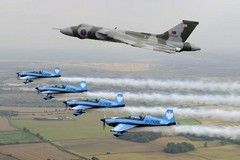 "Success as a Cold War peacekeeper meant that the Vulcan might have flown its entire service life without ever entering combat if it hadn't been for the Falklands Conflict in 1982. After a marathon 8,000 mile flight supported by eleven Victor tankers, Squadron Leader Martin Withers and his crew released the bombs over Port Stanley Airport that prevented Argentina operating its Mirage III fighters from the island and initiated the campaign that recaptured the Falklands. Two years later, the last Vulcans were withdrawn from service.
"Today, only one Vulcan is left flying: XH558, owned by the Vulcan To The Sky Trust, a Registered Charity. Returned to the air in 2007, she has become an airshow phenomenon."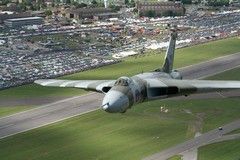 So there you have it. The trust has big plans for 2011 they tell us, including increasing the role in teaching science, technology, maths and helping inspire engineers of the future, creating a permanent home for the aircraft, and makingher more accessible to those who donate money to the cause.
And yes, that could be you...