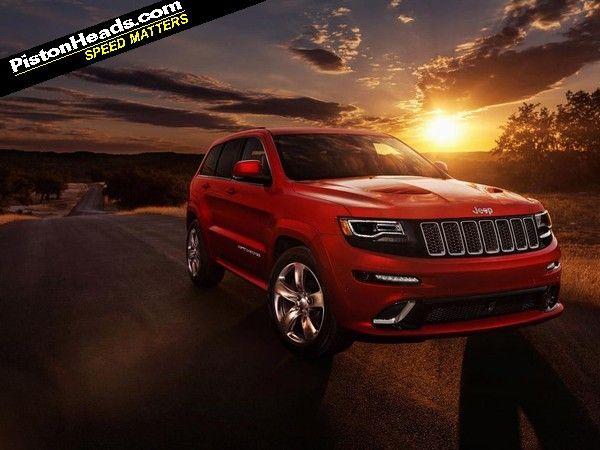 We're not usually fans of hefty performance SUVs here at PH Towers, but the SRT8 floats our boat in a way that no others can. Its blend of mean, chunky styling, a  mildly unhinged all-American V8 and a relatively low price mean it's somehow far more appealing to us than, say, an
X5 M
or a
GL63
. Yes, it's a lumpen thing that corners like a tower block, but like an old, slightly whiffy Labrador, its crudeness lends it a charm that can't be explained.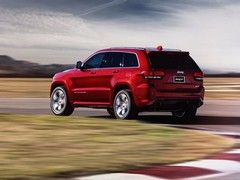 In its natural habitat on a track. Er... hang on...
News from Detroit
of a raft of updates to the current model, then, caught our eye; it seems the SRT8 has been made even more bonkers than it already was. The headline addition to this most muscle-car-ish of SUVs is launch control. Yes, launch control. On an SUV. Well, we suppose it'll help on those all-too-frequent occasions when you're racing pro-street Camaros between the lights. Just the thing for a rainy night in Altrincham, then.
OK, so it doesn't work all too well in the UK, and any justification for buying one will be based on decidedly shaky man maths, but just look at it. It's huge, ridiculous, and fantastic. From the Eastwood-esque squint at the front to the hilariously oversized exhausts out back, it's seriously mean. And under the skin, it's unashamedly old-school in its makeup: a 6.4-litre Hemi V8 provides 470hp and 465lb ft – the same as the pre-facelift model – but it's now matched to the excellent ZF eight-speed gearbox.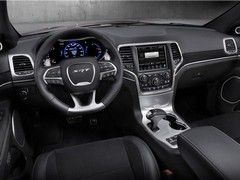 Buttons: the SRT8 has them.
The new SRT8 also gets a tweaked four-wheel-drive system that throws more torque to the rear wheels when it's set to Track Mode – all the better for lurid powerslidey fun times. That'll mean it'll hit 60 in a frankly astonishing sub-five seconds, before it runs out of aerodynamics at somewhere just north of 160mph. Utterly bonkers, we're sure you'll agree – but admirable in its own way.