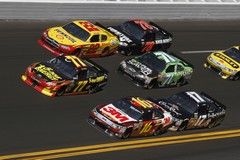 Raikkonen will soon be doing this...
Kimi Raikkonen has revealed that he is to have a crack at NASCAR racing this season.
According to the Turun Sanomat (that's a Finnish regional newspaper, by the way), Raikkonen will enter with the Truck Feeder series first (officially the NASCAR Camping World Truck Series) with his ICE1 Racing outfit, before moving up to the Nationwide and Sprint Cup series.
"I'm really looking forward to get there to familiarise to the world of NASCAR," Raikkonen told Turun Sanomat.
"I have been following it for a long time. I know, it's a very tough and open top racing series. I just love the American spirit of racing. It feels just great to get involved with that. Obviously, it will be very challenging and great fun for me."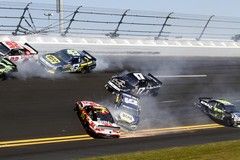 ...though he might do a bit of this
Raikkonen is expected to hit the NASCAR circuit this summer, though exactly what car he will be driving is as yet unconfirmed.
And he's not stopping his rallying either: The 2007 F1 champ might have left single-seat racing at the end of 2009, but he's certainly not been taking it easy, competing last year in the WRC at the wheel of a Citroen C4. This year, despite his newly revealed NASCAR plans, he will compete in eight WRC events this year at the wheel of a Citroen DS3 WRC run by his ICE1 Racing team.
| | |
| --- | --- |
| A spot of rallying is still on the cards too | |