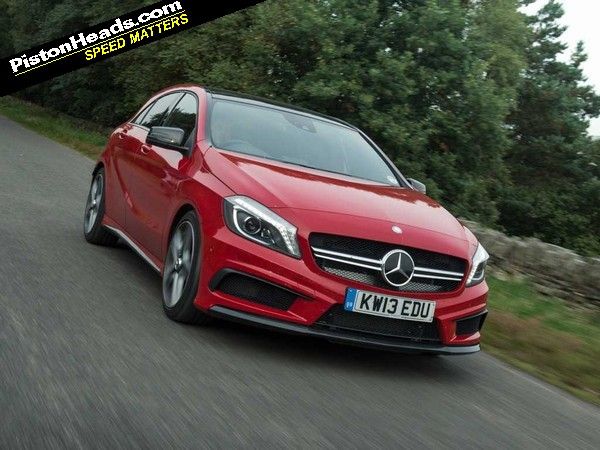 Who's it paying the bigger compliment to by saying the
A45 AMG
handles very much like one of Renaultsport's more focused products?
We'll have to ponder that one but of all the cars here the Mercedes is the one that screams out hardcore appeal and the glimmer of responding in kind to those willing to push beyond electronically contrived comfort zones.
That mentalist of an engine helps. Incredible to think that just a few years back power like this was reserved for cars most members of the public would think straight from the pages of Fast Power or some such title. And is now available from a man in a nice suit in your local Mercedes dealership.
This is no toe in the water for AMG's first hot hatch; this is a crushing hammer blow of 'sod it, if we're doing this we're doing it properly' and all the more admirable for it.
AMG's investment in things like a faster geared, linear rate steering rack speak volumes about the quality of engineering and pays off with the most convincing impression of traditionally assisted steering here. Firmly weighted, springy off-centre and with just the right level of resistance it gives you cast-iron confidence in the front-end and encourages you to pitch it in hard and fast.
In the Renaultsport you'd be hard on the power and leaning on the diff to pull you through. Here the AMG differs, four-wheel drive gathering itself for a moment like the Golf's diff (both are Haldex derived) before giving you a boot up the backside and keeping the front-end nailed to the apex of the turn. It then scoops you round and flings you out with outrageous pace as the frantic engine starts boosting in earnest.
Evo-aping power output or not it can't match those rally reps for chassis cleverness or adjustability. But it's a powerful weapon and hugely entertaining. Brilliantly judged damping is pointy and lively, again like a Cup Megane, letting the car move around without ever feeling unsettled or edgy.
It's less adept than the other two at backing off and relaxing for the long ride home though, this pent-up aggression always at the forefront whether you're in the mood or not. It's mighty when you are though.

---
Introduction and comments
Volkswagen Golf GTI Performance
BMW M135i
Mercedes A45 AMG
Verdict

---
MERCEDES-BENZ A45 AMG
Engine: 1,991cc 4-cyl turbo
Transmission: 7-speed dual clutch auto, four-wheel drive
Power (hp): 360@6,000rpm
Torque (lb ft): 332@2,250-5,000rpm
0-62mph: 4.6 seconds
Top speed: 155mph (limited)
Weight: 1,555kg
MPG: 40.9 (NEDC combined)
CO2: 161g/km
Price: £37,845 (before options)

---
Further reading...
BMW M135i vs ... the world!
BMW M135i vs Toyota GT86
BMW M135i vs Porsche Cayman 2.7
BMW M135i vs Renaultsport Megane 265
BMW M135i vs Audi S3
BMW M135i vs used Porsche 911 Carrera
Photos: PrimeExposures