It takes only a few hundred metres and a lazy prod on the throttle to determine it's quite some motor, this new S63 from Mercedes-Benz AMG. And, more importantly, that it's quite some motor under the bonnet.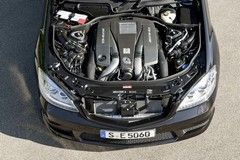 More importantly, because this is our first chance to sample the new twin-turbo 5.5 that has just replaced AMG's 6.2 normally aspirated unit in the most-uber of V8 S Classes - and it's always a worry when folk decide to improve on one of God's own engines, in case they b*gger it up. Especially when that 'improvement' is made in the name of (tremble) 'the environment', as now inevitably seems to be the case. The improved new unit in the S63 comes attached to Merc's 7-speed wet clutch auto, and even has a start-stop function so you won't choke cyclists at traffic lights. (Perish the thought…)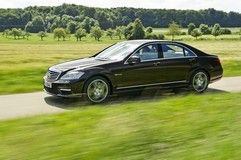 Well hopefully to the chagrin of bleeding-hearts everywhere, we can tell you that AMG has over-delivered against its core brand values again, with another thundering beast of an engine making even more elephantine torque and power than could ever be considered
necessary. And all while casually posting a 25 percent reduction in official fuel consumption against the previous S63. Yep, 25 percent, and a combined economy figure that's close enough to 30mpg for us to overlook the difference. (26-point-something is close enough for PH, surely?)
C02 is down nearly 30 percent at 244g/km too, so if enough of these cars are sold there'll be a 14.7 percent reduction in the rate of glacial melt and 2.7 small islands will re-emerge from the Pacific Ocean, potentially adding 0.008 percent to the global supply of sustainably farmed and (we must fervently hope) fairly traded coconuts. All according to Mercedes-Benz official figures, of course.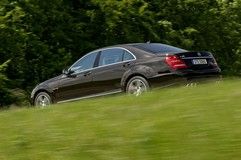 Not that we appreciated the greener aspects of S63 AMG ownership on our brief-ish test drive in Germany, as we didn't even have time to consume a full tank of unleaded. But we tried, and so were able to appreciate several of the other significant numbers offered up by this magnificent new twin-turbo V8.
With the 'Performance Pack' fitted to our test car, the new engine gives you a mighty 571hp and 664lb ft of torque to play with, delivering 0-62mph in 4.4secs (which seems to be the current industry standard for rear drive super-saloons - limited by tyre technology apparently), and a top speed of 189mph. The Performance Pack lifts output from the 'standard' S63's 544hp and 590lb ft via an increase in full throttle charge pressure from 1.0 to 1.3bar. It costs nearly £8k (on top of the circa £110k price tag for the car itself), but you do get a 'genuine carbon fibre' engine cover in case you want to show off to the neighbours.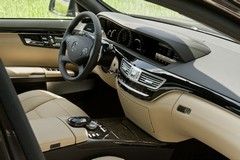 As sampled, the 5461cc engine offers a specific output of 104hp/litre, but the most notable aspect of performance on the road (once you've got over the sheer scale of it) is down to the fat torque curve. You get the full whack of 664lb ft between 2250 and 3750rpm, and the effects are pretty epic if predictable. The thing goes like sh*t off a shovel.
The defining character difference between this and the outgoing engine is that the performance is available 'right here, right now', even when you're not really going for it. So while the 6.2 gets into its stride a little higher up the rev range and offers a performance that builds like a relentless tidal wave, the new car responds to throttle inputs with the immediacy of a sledge-hammer blow.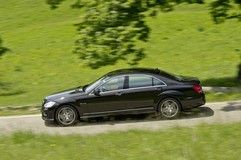 The action is also now accompanied by a constant, hard-edged, snarling V8 soundtrack that makes the older 6.2's 'rumbling thunder/gurgling drainpipe' effect seem somehow old-school (
Requiem eternam, et lux perpetua etc.
). The new soundtrack is persistent as background music even when cruising, yet I'd defy anyone with an ounce of enthusiasm to tire of it. It's cleverly balanced to enhance the S Class's superbly sophisticated cabin ambience, and never seems intrusive at all.
Engine apart, there's not that much to differentiate this new model which retains the S63 badge on its rump in spite of the capacity decrease, but there are new V8 Biturbo badges on the front wings, new tri-spoke AMG alloys and tweaks to the front and rear aprons.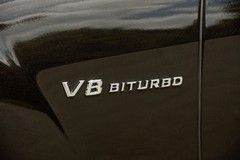 Under the skin there are a couple of new safety measures available across the S Class range, including Lane Assist and Blind Spot Assist, now both with active steering to help deflect you from disaster (more anon), and of course you still get AMG-spec active suspenders with sports mode to keep the S Class utterly controlled through the twisty bits or during fast lane-change manoeuvres. The gearbox has relaxed (efficient), sporty and full manual modes operated by small paddles behind the wheel.
It's all beautifully sorted out on the road, with the new V8 offering an increase in both power and flexibility, and the supple, agile chassis and direct steering combining to offer a driving experience that's emotionally thrilling, dynamically engaging and cossetingly luxurious all at once. Because in spite of the elemental performance, you never forget this is a top of the range Mercedes-Benz saloon.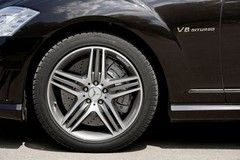 With a full complement of luxury items from seats with range of massage options (I enjoyed a WWF-style pasting and something more sensual with my driving colleague, but we looked in vain for a button marked 'happy finish'), to the fabulous optional Bang and Olufsen stereo set-up, and of course M-B's full range of Designo trim – the S63 satisfies on so many levels and, with this new engine in such a complete fashion, that it's hard to think where it could be bettered.
Of course, it's no real surprise to find AMG uncorking another classic. The Germans aren't blockheads and they know what we Brits like, because our nations have so much in common – beer, sausages, and luxury performance saloon cars to name a few. If only they'd put as much effort into the beer and sausages…
| | | |
| --- | --- | --- |
|   | S 63 AMG | S 63 AMG with AMG Performance package |
| Cylinder arrangement | V8 | V8 |
| Cylinder angle | 90o | 90o |
| Valves per cylinder | 4 | 4 |
| Displacement | 5461 cc | 5461 cc |
| Bore x stroke | 98.0 x 90.5 mm | 98.0 x 90.5 mm |
| Cylinder spacing | 106 mm | 106 mm |
| Compression ratio | 10.0:1 | 10.0:1 |
| Output | 400 kW (544 hp) at 5500 rpm | 420 kW (571 hp) at 5500 rpm |
| Output per litre | 73 kW (100 hp) | 77 kW (104 hp) |
|   | S 63 AMG | S 63 AMG with AMG Performance package |
| Max. torque | 590lb ft at 2000 - 4500 rpm | 664lb ft at 2250 - 3750 rpm |
| Torque per litre | 108lb ft | 122lb ft |
| Maximum engine speed | 6500 rpm | 6500 rpm |
| Mean pressure | 18.5 bar | 20.8 bar |
| Engine weight (dry) | 204 kg | 204 kg |
| Power/weight ratio | 0.37 kg/hp | 0.36 kg/hp |
| Fuel consumption NEDC combined | 26.9mpg | 26.9mpg |
| CO2 emissions | 244 g/km | 244 g/km |
| Acceleration 0 - 100 km/h | 4.5 s | 4.4 s |
| Top speed | 250 km/h* | 300 km/h* |