... it feels like we've been here before. Another bonkers, British-built, lightweight, road-legal track day car. Will the effort die, or flourish?
Well, the Elemental RP1 feels a bit different, in every respect, which bodes well. For a start, there's the price point: from £82,250, excluding local taxes, or just shy of £100K if you pay the way most people do, i.e. legally. This outstretches the price tag of an Atom or the cost of a Zenos, or a similar cost for a power-hungry Caterham, but seems a more sensible pricing strategy: Elemental is forced to promise a lot more bang for the buck, which, if the company grows and they manage to build in a race package around the car, which is the ultimate aim, is then a brand worth buying into properly for the long haul. Look at Radical: it can work.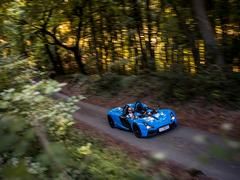 Plus, you don't get a USB charging point and reversing camera in most of the competition. But more of the creature comforts shortly...
The people behind the car also bear noting: a six-man team from McLaren F1, Toyota F1, Porsche and Airbus make up the expert knowledge. They've just completed the main development programme (we drove a prototype back in 2015) and delivered the first real, bona fide customer car in March.
So, what's the fuss about? At first glance, the car looks a bit KTM X-Bow-ish, or Vuhl 05-ish, with a wide stance, slabs of crazy bodywork and triple headlights. And true to form, there's a carbon fibre tub, like so many that have gone before. But, er, that's about all the RP1 (short for Race Programme 1) has in common with pretty much anything else.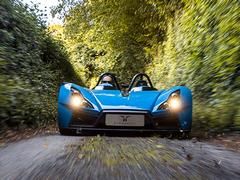 Make yourself comfortable
Climb aboard, and the two carbon seats are tipped back in the feet-up position, a first for a production car. Wise move: lower yourself into the driver's seat and your heart's thumping before you even fire the red button with the drama of it. The RP1 also gets an immediate gold star for the length of the seat runners: I'm 5ft 6in and there was plenty of scope to fully depress the clutch pedal; then one of the founders got in, all 6ft 5in of him, and was equally at home. You couldn't say that about a Caterham 7, for example.
The car we drove was minus a windscreen but every customer so far has specified one and they're coming. It wasn't so bad with sunglasses on at speed, but without a rear view mirror you can't see jack; those striking wing mirrors give as much visibility as motorcycle ones.
Power comes from Ford's 2.0-litre turbocharged Ecoboost engine, delivering 325hp and giving this 595kg car a power-to-weight ratio of 548hp per tonne, and 0-60mph time of 2.7 seconds. 
The astonishing part of the powertrain, however, is the six-speed sequential Hewland JFR gearbox with pneumatic shifters. Genius, and so obvious. Why go for a manual 'box and clutch when you can have such astonishing, visceral, aggressive performance from this set-up?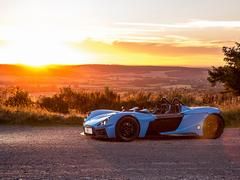 Push the start button, and be careful to slip the clutch and keep the revs coming as you trickle away: there's an ultra-light flywheel which makes stalling the engine eminently possible if you're not paying attention. However, once on the racketing, teeth-chattering, cheek-blasting move, upchanges can be accomplished via the right-hand paddle with the throttle to the floor. And in 40 milliseconds. Downchanges require a lift, but that's to be expected. The power delivery is barely interrupted, a surge of assaults on the air in front of you that fairly take your breath away. Good news, then, that the Alcon brakes are phenomenal.
The downforce helps, too. Integrated underfloor dynamics - front and rear diffusers - generate more than 400kg of downforce at 150mph (it's good for 170mph once you've tweaked a few things onboard). This is A Good Thing for track work, but you'd have to be a braver and better driver than I to find the performance envelope of this thing: it's just too brutal and too accomplished for novice circuit goers.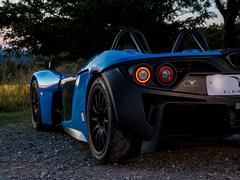 Should you be a more advanced track tearaway than I, however, you'll enjoy the five drive modes, all accessible from the central switchboard. Once the engine oil is over 50 degrees, you can change the mapping to give you more power (it ranges from 243hp to 325hp) and less traction. Lift the bonnet, and you can quite easily adjust the Nitron damper settings by just rotating the tops through individual clicks.
On the road, however, a bizarre thing happens: the RP1 is positively comfy. In large part this is due to mounting the engine longitudinally, creating more room for longer wishbones. It soaks up undulations and broken road surfaces, and you could go far in one. With a long weekend away in mind, the engineers have scooped out two 100-litre storage bins under the rear deck, one in front of each rear wheel.
Other creature comforts are the aforementioned USB charging point, reversing camera and even heated footwells. Oh, and there's a digital screen behind the steering wheel that shows speed, revs and other data, but also displayed my name when I got in. I'm a sucker for that sort of stuff. Where do I sign?

---
ELEMENTAL RP1
Engine: 1,995cc 4-cyl turbocharged Ford Ecoboost
Transmission: 6-speed sequential Hewland JFR, rear-wheel drive
Power (bhp): 325@5,500rpm
Torque (lb ft): 335@3,000rpm
0-60mph: 2.7sec
Top speed: 170mph
Weight: 595kg
MPG: N/A
CO2: N/A
Price: £98,700