Honda has unveiled the second model based on its new electric car platform, a sporty sibling to the
We loved that car for its retro styling, with strong first gen Civic overtones, and from the 119 comments the story received, you agreed.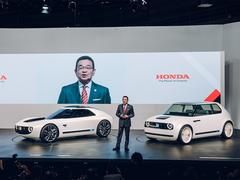 Opinion on this is likely to be a little more divided. Honda claims it possesses, "a striking silhouette, friendly face and supple body surfaces, all designed to ensure the car blends into any lifestyle." It's certainly a classic two seater coupe from the rear three-quarters, all aggressive haunches and slopey glass. From the front, however, things are perhaps a little less resolved; there's a definite Toyota 2000GT vibe from the long bonnet and enclosed headlight design though.
Whilst electrification is more easily accepted in a city car like the Urban EV, no doubt many will find the idea of it in a sports coupe a harder pill to swallow - particularly from the company which gave us that powertrain.
The torque-based benefits of battery power are well known, but there are no performance figures or specs as yet. Just the assurance that the Sports EV will provide "a feeling of joy and emotional unity to the drive." With the Urban EV not entering production until 2019 though, we'll likely have to wait till next decade to find out if Honda can make good on that promise.