Lamborghini likes to make noise at Geneva and with a new boss at the helm what better than a limited run, 770hp hypercar celebrating 100 years since the birth of company founder Ferruccio Lamborghini? That explains the
at least, the run of 20 coupes and 20 roadsters fulfilling that essential hypercar requirement of being a sell out at the point of unveiling. Even at 1.75m euros plus taxes.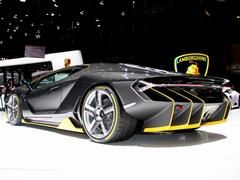 Well it wasn't going to be subtle, was it?
Essentials? Well, there aren't any electric motors involved in propelling it, this left purely to a 770hp naturally aspirated V12 revving to 8,600rpm and the most powerful ever fitted to a Lamborghini production car. There must have been temptation to go after the really daft numbers, perhaps with a little hybrid assistance, but credit to Lamborghini for sticking to its old-school guns. And, let's face it, 0-62 in 2.8 seconds and a top speed 'in excess of' 219mph isn't too shady. OK, so the new hypercar metric of 0-186mph (300km/h in new money) in 23.5 seconds reveals quite how punchy the new Bugatti Chiron's 13.6 seconds really is but if Lamborghini's USP is to be last man standing with big capacity, normally aspirated supercar engines you'll hear few complaints from us. You may hear some from those who don't like the neck-cricking shifts of the Aventador's Independent Shifting Rod single-clutch automated manual gearbox though. Full bore Corsa upshifts reserved for real men with suitably thick necks then.
It looks suitably mad too, the trademark 'monobox' Lamborghini shape extended, distorted, perforated and hacked away at in typically dramatic fashion. It's not officially mentioned in the press release but the Aventador basis looks clear enough, the Centenario going several stages further along the craziness scale with its full-height side vents and huge diffuser strakes that extend all the way up to the top of the rear deck to create huge tunnels in the bodywork for aero and cooling purposes. The extended underfloor aero creates an almost double-floored look, the bare carbon finish and contrasting yellow paint giving it a suitably malevolent vibe. For all the drama it's proper aero too, an extendable rear wing emerging by 150mm and 15 degrees "for optimal aerodynamic efficiency in high performance conditions" according to Lamborghini. You'll have to assume there's a manual override to permit owners to interpret that as 'all the time, especially around town', with bonus points for any supercar spotter who EVER gets a pic of the car with the wing retracted.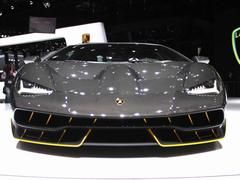 Ferruccio would be proud!
Lamborghini may be rebellious by nature but the Centenario boasts this season's must-have accessory in the form of four-wheel steering and the 'adjustable wheelbase' this offers; as per similar systems in other cars this turns the wheels in opposite directions at lower speeds for agility and the same way at speed for more stability. The tuning of this with Lamborghini's controversial - and standard - Dynamic Steering will be critical. Four-wheel drive remains too. Weight at 1,520kg dry is just five kilos less than an
, the extra aero and chassis hardware not coming cheaply in weight terms it seems.
Last word, perhaps fittingly, can go to outgoing boss Stephan Winkelmann. "The Centenario is a car that perfectly combines tradition and innovation. It looks to the future while honouring the legend that is Ferruccio Lamborghini," he says. "The Centenario is an opportunity for our designers and engineers to transcend some of the constraints of series car production to achieve an incomparable result. It is the most fitting tribute to Ferruccio Lamborghini in his centenary year: a man who created an exceptional brand, believed that anything was possible, and produced extraordinary, iconic cars." Possibly just a little projection of his own legacy at Lamborghini there? We'll leave that to Twitter but he wasn't likely to bow out without making a bit of noise of his own.