If ever a car summed all that we love at PistonHeads, the TVR Chimaera is it. Great to look at, even better to listen to and pretty darned fine to drive as well. Of course, TVR has its detractors and there are plenty of myths that have grown up around the brand and this model. Some are wholly undeserved and others are more down to poor maintenance and TVR's sometimes less than stellar build quality when the cars were new.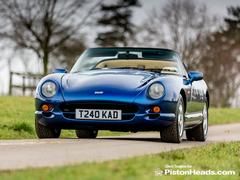 The good news is that even the newest Chimaera is now 14-years old, so any of those factory-induced niggles will long since have been addressed. So much so, that all of the owners we've spoken to regard the Chimaera as a very rugged, reliable car. It does need some specific care and attention, which you can read about in the following sections, but overall buying a one of these British sports cars is not the minefield you might think.
One piece of advice from almost everyone we chatted to is to drive as many examples before committing to buying. There's a big variation in quality between a well sorted Chimaera and one that's had a quick wash before sale. "Condition is everything with these cars," advises James Agger from James Agger Autosports, supplier of the car you see here in the pictures.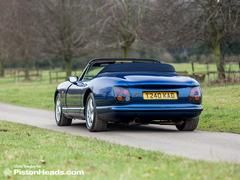 The Chimaera was launched at the Earls Court motor show in 1992 and lasted through to 2003. By that time, around 6,000 Chimaeras of all types had been built, making it TVR's most numerous model by some margin. This makes it the easiest to find in classifieds and also means you don't have to accept a tired example as there's sufficient used stock around for you to walk away from a dud.
Development of the Chimaera was evolutionary rather than revolutionary during its life. A stronger Borg Warner T5 gearbox replaced the Rover-sourced LT77 in 1994, while more power arrived with various engine changes throughout the car's time.
The most significant change came in 1996 with a facelift that's easily spotted with the crossbar extending across the front grille. It also moved the door locks from the door itself to the hidden release buttons under the mirrors in a revision first seen at the 1997 motor show in October of that year. New rear lights and boot completed the exterior changes on the 1998 model year cars, while under the skin the chassis was now the same as the Griffith's and resulted in a wider rear track.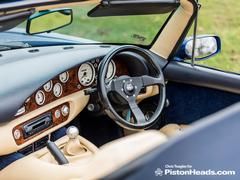 Another round of updates came in 2000 and the most noticeable update was faired-in headlights similar to those of the Griffith. Mk1 Cerbera seats were also fitted for greater comfort and there was some new switchgear and small changes to the suspension for better ride and handling.
Prices for the Chimaera start at around £8,000 and you might well find a decent car for that from a private seller. However, £12,000 is more like starting money for cared for cars from a dealer. Beyond that, spec and condition dictate the price all the way to around £27,000 for the very best.
---
PHer's view:
"A good quality car will be a joy a drive with a sound you will never get tired of. Mine is 20 years old and will still do 0-60 in less than five seconds. Okay, it's bit tatty round the edges if you look closely and has cost me some pennies to get into its current mechanical condition, but it's been well worth it."
David Wells
---
Thanks to James Agger Autosport for the supply of the car in the pictures and the additional assistance with this story.