Last summer we brought you word that Singer had partnered
- and Hans Mezger - to produce this, a modern take on the 911's air-cooled flat-six. It used titanium and magnesium for the majority of its components including the four camshafts, four-valve cylinder heads and con-rods, it's also got dual oil circuits and a carbon fibre air box. The original 3.6-litres had been bored out to 4.0, output was up from 247hp to 500hp, and it had a rev limit the right side of nine thousand. Nine thousand!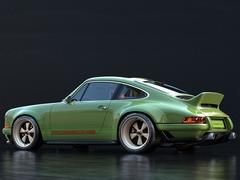 Spec might be sexier still...
Well, now that engine has a car to go in, and what a car it is. Again the result of the Singer-Williams relationship, the body has been designed in collaboration with
- no relation to the 're-imaginers', but rather the architect of many a Porsche Le Mans victory - using computational fluid dynamics.
The body and chassis also make extensive use of carbon fibre, titanium, magnesium and aluminum, resulting in a dry weight of less than 990kg. With a lightweight suspension system, rear window inlets accommodating the engine's carbon fibre intakes, and a trick roof which channels air onto the ducktail spoiler, the outcome should be one of the greatest 911s ever built. To that end - and in keeping with the assumed price tag - only the finest suppliers have been used for everything else. There are bespoke Michelin Pilot Sport Cup 2 tires, 18-inch BBS forged magnesium centre-locking wheels, lightweight Brembo brake calipers with carbon composite discs, custom dampers by EXE-TC, and a Hewland magnesium six-speed transmission. Oh, and development driving duties are being seen to by Marino Franchitti, and some chap called Chris Harris. We wondered what he'd been up to...
This particular Absinthe and Blood-Orange car is the first of the run, the result of Porsche collector Scott Blattner enquiring as to just how far Singer's imagination could stretch. Pretty far, it seems. There are plans to produce up to 75 more examples, all of which will be built at a dedicated facility known as 'Singer at Grove' on the Williams campus in Oxfordshire. Another British engineering success story, it seems.