Now just to be very clear from the off: this is not an official story about another three-seat McLaren. Instead this relies on Autocar's information, supplied on very good authority, which suggests the F1 layout will return. Hopefully that will avoid any confusion.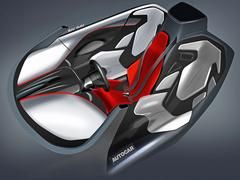 Now both children can come out!
So what do we have? Renderings and insider info, for now, but what they are suggesting sounds very exciting indeed. What it won't be, despite the name, is McLaren's flagship; that will continue as the P1, or whatever its Ultimate Series replacement is. Instead the 'F1' aims to fulfil a 'hyper-GT' role, while also demonstrating the abilities of McLaren Special Operations; more than just loads of
, this car will show off what it can do with an actual production run.
Autocar's source says this new car will be "the most exquisitely crafted and luxurious roadgoing McLaren yet made", offering performance in line with the Super Series cars but also a level of opulence not yet seen in McLaren. Expect power to come from the 3.8-litre twin-turbo V8 that sees service in some form or another in every McLaren model, with around 700hp. Despite that power, the additional weight of the new layout means performance is more likely to be in line with the 650S rather than the 675LT. Furthermore, the Proactive Chassis Control is likely to have its most compliant set-up yet. Don't expect a Longtail either.
From what's been disclosed of the exterior styling, the new car is likely to mimic the F1 with features like a roof scoop and dramatic side intakes. However, the McLaren informant added that the styling will convey "extreme elegance".
What's arguably more exciting is underneath and inside; not only will the Monocell carbon tub have to be adapted to fit three seats and a central driving position, but an interior beyond anything we've seen from McLaren is being promised. Bespoke switchgear has been suggested, along with a range of materials so vast that no two are expected to look the same. "Closer to a piece of art than a car" is the way it's been described to Autocar.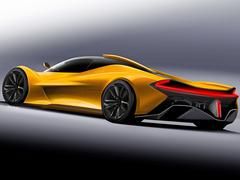 Renderings only for now; looking good
And the name? It's currently under the code 'BP23', standing for MSO's second Bespoke Project (after the
) with three seats. That name indicates how significant MSO's involvement is too - this is only its second full project since being created in 2011. Apparently a production name is still being decided; obviously F1 can't be used, but then using F2 implies it's a lesser relative. F1 GT is being suggested, but feel free to post your own...
Should what's proposed come to fruition - and we're rather hoping it does - then a 2018 launch has been proposed. That would be 30 years since the idea of a McLaren road car was suggested by Gordon Murray to Ron Dennis, Mansour Ojjeh and Creighton Brown. Which would be nice. Could the F1 really return? More news to follow as soon as possible!