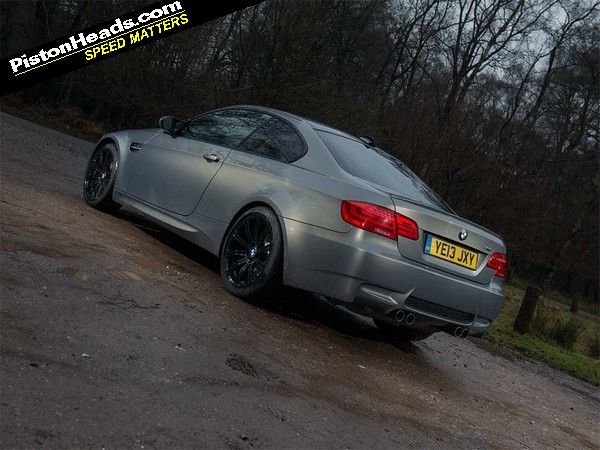 The
E90 saloon, E92 Coupe and E93 Convertible
versions of the M3 only share their doors, boot lid, glass and front and rear lights with their standard equivalents. For the drop-top Convertible, it also shares its Retractable Hard top folding roof with the standard open-top 3 Series. This was a departure for BMW from its previous fabric roofs for open 3 Series models. The roof is operated electro-hydraulically and is reliable, but it's best to check it works quickly and smoothly.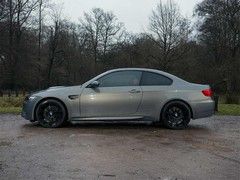 'Powerdome' bonnet is aluminium
The folding metal roof adds 230kg to the kerb weight compared to the Coupe, though this was the first open M3 not to suffer scuttle shake. While all three versions share the same 2761mm wheelbase and 1804mm width, the saloon is slightly shorter overall. It measures 4580mm from tip to tail next to the Coupe and Convertible's 4615mm, with the 35mm being lost in the saloon's shorter front overhang. The Coupe also has a fractionally narrower front track at 1538mm compared to the saloon and Convertible's 1540mm.
Even so, the M3 is a compact car and its weight is kept down thanks to an aluminium bonnet that has a powerdome bulge and twin air vents to help cool the engine bay. There are also three large air intakes in the front bumper to get cool air into the radiator. A carbon fibre roof saves 5kg over a steel equivalent for the Coupe.
Corrosion shouldn't be an issue for the M3 and if you find any, it's a clear sign of poorly repaired crash damage. It is worth inspecting the bumpers, which can suffer from paint wearing through. Otherwise, the only things to look for are car park dents and stone chips to the front bumper and bonnet.

---
PHer's view:
Build quality and materials are excellent although BMW's paint shop could learn a thing or two from Porsche and Audi. The finish isn't as good as other makes and my car had its front and rear bumpers repainted under warranty
Rich Anderson

---
Buying guide contents:
Introduction
Powertrain
Rolling Chassis
Body
Interior
Search for BMW M3s in the PH classifieds