Some owners have complained the Scirocco's cabin is not as appealing to the eye as the exterior of the car. However, it's well made and offers seating for four adults.
The standard cloth upholstery in most models lasts well and responds to a good clean to freshen up the cabin. Leather seats are also popular and hard wearing.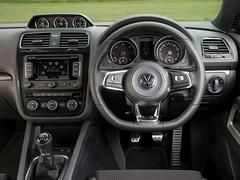 The standard CD stereo system has drawn praise from a lot of owners for still sounding good. Older Sciroccos with a sat-nav system are not worth paying any extra for as the sat-nav is outdated.
The base model Scirocco came with climate control, electric windows, touchscreen infotainment and an MP3 connection. Go for the GT and you get a multi-function steering wheel and rear privacy glass. From 2012, the multi-function steering wheel and sat-nav were fitted to all models.
A small boot can be extended by folding down the rear seats.
---
PHer's view:
"VW skimped on a few things on the Scirocco compared with the Golf in the same period, so quite a few owners (myself included) swapped in some useful parts from the Golf at the time. The covered ashtray and cubby hole, sliding central console lid and flip down drinks holder behind the central console were three modifications I made."
Lee Chung
---