While we're more interested in the higher performance versions of the Scirocco, it's worth mentioning the 1.4 TFSI unit can develop a misfire. There can be a number of reasons for this, ranging from failed coil packs to spark plugs. Volkswagen offered an ECU re-flash that cured this problem in many cases, but it's not a guaranteed fix.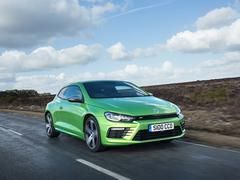 With the R's motor, the cam follower for the high-pressure fuel pump can fail. A replacement kit is £46 from Awesome GTI for the 2.0-litre TFSI engine and many owners now regard this as a 20,000-mile service item rather than waiting for it to go wrong. If you don't replace it in time, it can cause much more expensive damage to the engine.
As all Scirocco engines are all turbocharged, it's essential that oil services are carried out on schedule. Several owners tell us they do this themselves using synthetic oil as it's an easy job.
Most PHers looking at a Scirocco will lean towards the 2.0-litre TFSI turbo petrol unit. If you do, remember to check that the cambelt has been replaced at the correct 80,000-mile or four-year interval, whichever is sooner. Also make sure the water pump and tensioner have been replaced at the same time as the cam belt. All of this will set you back around £850.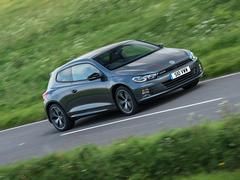 Other areas to check include the coil packs, which fail but are cheap to replace, and the diverter valve which can perforate and prevent the motor from making full turbo boost. An uprated plastic diaphragm is £30 and solves this issue permanently.
Another common problem with the 2.0-litre engine is the positive crankcase ventilation (PCV). A quick check for this is to remove the dipstick, and if the engine begins to stutter, the PCV is fine. If the car continues to run fine without the dipstick in place, the PCV is faulty and needs to be replaced.
A cracked airbox is not a common problem but can occur. If it does, it's an excuse to fit an aftermarket unit from the likes of REVO, Forge or Carbonio from around £500.
The Scirocco R has an uprated EA113 TFSI engine with a Borg Warner K04 turbo and a REVO Technik Stage 1 map is recommended by many R owners. With a new air intake, such as the one offered by Forge Motorsport, and a Milltek Sport cat-back exhaust, you can have 330hp from an R. It's possible to take the R as high as 500hp, but that will require an upgraded turbocharger and considerable expense. There are also tuning packages for the other engines in the Scirocco range, with the most popular a stage one tune from REVO taking the 210hp 2.0-litre TFSI to 250 to 280hp, depending on what other modifications are made to the car.
If you do upgrade the engine, the clutch will be the first component to complain by slipping. An improved Sachs clutch should cure this for £550 plus fitting, though a full clutch for an R weighs in at £1160 including a single mass flywheel.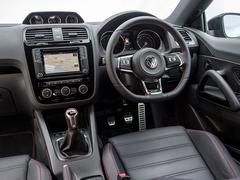 The six-speed manual gearbox is reliable, but converting to the uprated Sachs clutch can make the pedal heavy. VW claimed the gearbox was sealed for life, but it's a wise precaution to change the fluid every second service.
If you drive in town a lot, the DSG twin-clutch transmission is a better bet, though it comes with its own problems. The Mechatronic ECU can fail, leading to a lurch as the car takes up drive from a standing start. From Volkswagen, a replacement Mechatronic is £900 plus fitting, but fortunately ecutesting.com can supply a rebuilt ECU with two-year warranty for £250. You'll also need to budget for new oil and filter every 40,000 miles with the DSG 'box.
While you've got your nose under the bonnet, take a look at the state of the air conditioning compressor. If it's not pumping cold air, a new one is £100 but fitting by a garage will add considerably to the final bill.
---
PHer's view:
"My car was run with a Revo remap & lowering springs for around 5 of the 7 years I owned it which weren't necessary but did add a nice pep to the experience and made it look like it should have as a sports coupe."
Sarah Mann
---