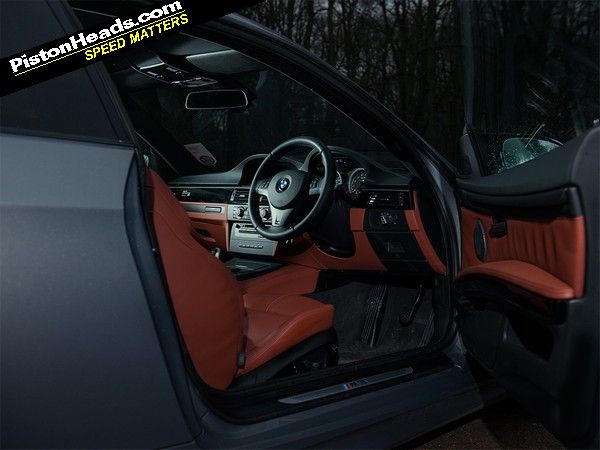 The M3's interior is not as flamboyant as some of its rivals, but that only serves to make the BMW easier to live with and less susceptible to fads and fashion shifts. Leather seats are standard on all models and the bespoke front seats for the
M3
are comfortable and supportive for day-long journeys. The Coupe also offers decent space in the rear for two passengers where some rivals struggle to accommodate adults. However, the Convertible is a little more pinched on rear seat space, so the back seats are more suited to children.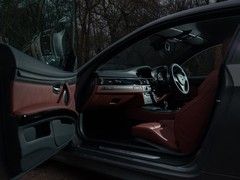 Novillo leather in here needs care
All M3s come with BMW's iDrive controller, which was a much more sorted and easier to use system by the time the M3 was launched. It operates many functions, including satellite navigation as standard, and also lets the driver choose preferred settings to select at one press of the MDrive button on the steering wheel.
The multi-function steering wheel sits in front of a bespoke dash for the M3, which has a speedo that reads to 200mph. It also has the staged lighting system to let the driver know when the engine is fully up to working temperature.
Twin front and side airbags are included on all M3s, with curtain airbags for the saloon and Coupe. For security, there's a Thatcham 1-approved alarm, immobiliser and remote central locking.
On the luxury side, all M3s have leather Novillo leather upholstery that can wear quickly on the driver's seat outer bolster, which is an indication of a careless owner. Cabin quality is generally good in the M3, but it's not quite as robust as you might expect, so a shabby interior points to a car that has had a hard life.

---
PHer's view:
The seat belt catch mechanisms can be temperamental so make sure you keep them lubricated with some silicon spray. The seats are Nappa leather and as such are prone to wear more so than standard BMW leather. Make sure you keep the leather nourished with leather cleaner and conditioner; otherwise you will experience premature wear, especially on the drivers side bolster.
Luke Banks

---
Buying guide contents:
Introduction
Powertrain
Rolling Chassis
Body
Interior
Search for BMW M3s in the PH classifieds