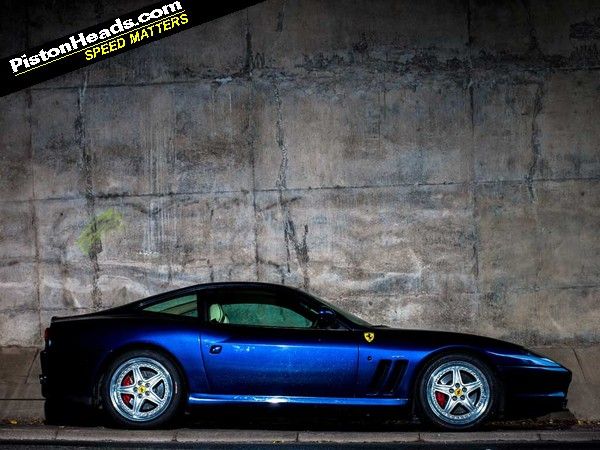 The Ferrari 500 Maranello and Barchetta are based around a tubular steel frame with unequal length wishbones, coil springs, gas dampers and anti-roll bars front and rear. To this was attached 330mm vented and cross-drilled front discs and 310mm drilled and vented rears with ABS and electronic brake force distribution.
Both the Maranello and Barchetta have a front track of 1,632mm and 1,586mm at the rear, while each tips the scales at 1,690kg.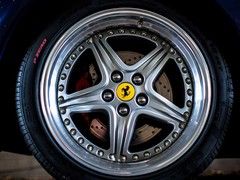 Correct tyres make a big difference
Steering for the 550 is by a hydraulically assisted rack and pinion set-up with 2.1 turns from lock to lock. Pirelli P-Zero Rossos were the original tyre fitted to the 550 and it's Pirellis that work best on this car in most owners' experience. This is a key area to inspect when looking at a 550 to buy as tyre choice and wear have a significant impact on how the car drives and handles. Excessively worn tyres that have not been replaced suggest an owner who is either trying to avoid a bill or doesn't care for the car as much as they should.
The tyres are 225/40 ZR18s on the front and 295/35 ZR18s at the rear. Reckon on spending £150 per tyre on front rubber and £200 per tyre at the back. If you use the performance and handling the rear tyres will last around 6,000 miles, with fronts managing 10,000, but lighter use should see 10,000 miles from the rears.
Early 550s came with magnesium alloy wheels, but these were replaced under warranty by Ferrari. The recall for cars made between December 1996 and June 1999 was issued as the alloy wheels could potentially work loose as the bolt locating the inserts fitted to the wheel could crack if the wheel nuts were over-tightened.
The alloy wheels are also prone to cracking if water gets in behind the lacquer. This happens if the wheel has been kerbed or scuffed.
Another area to check carefully is the 550's steering as wear can set in at 30,000 miles and manifest itself as free play at the steering wheel. Rebuilding a steering rack shouldn't be too expensive at a specialist, but replacing suspension bushes and hub bearings at the same time is worthwhile and can push up the final bill.
Ferrari issued a recall for all 1997-built 550s as the inner hydraulic seals of the steering rack could fail due to high engine bay temperatures. This could result in fluid loss from the rack and increased steering effort.
The final check for the rolling chassis is the handbrake, which can suffer from wear on the ratchet mechanism. Ferrari is aware of this and sent out a recall notice for cars manufactured in 2001 to fit a replacement ratchet made from stronger metal.

---
PHer quote
"Tyres can be more of an issue than expected. My original car was on P-Zero Rossos I think and it just chewed them after 4,000miles on the rear and the fronts would not be that far away. Once the tyres go, its one of those cars where the balance and handling drastically changes for the worse. Even changing to tyres to another brand had serious negative effects on roadholding."
David Murray-Hundley

---
Buying guide contents:
Introduction
Powertrain
Rolling Chassis
Body
Interior
Search Ferrari 550s in the PH classifieds