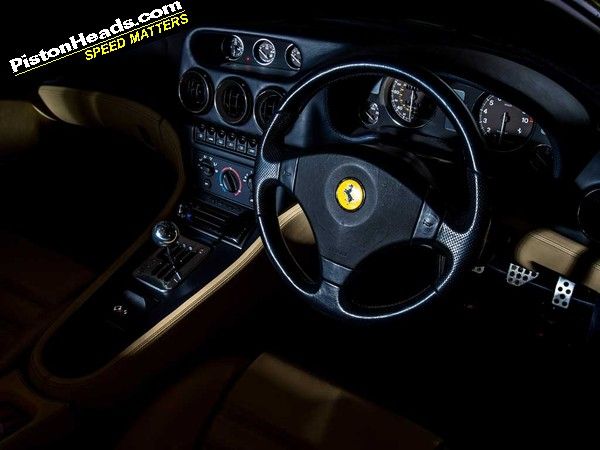 There no skimping on equipment inside the 550's two-seater cabin. It has leather seats and hide also covers the centre tunnel and steering wheel, while a classic Ferrari chromed gear knob sits in an open chromed selector gate. The seats have electric height, slide and recline adjustment, while the steering column is also adjusts for height. As with the other electrics in the 550, the electric seats should not give any problems and work freely. Sports seats were an option.
A recall was sent out by Ferrari for the 550 Barchetta as its seat runners could potentially be misaligned, which would mean the seat not locking into position and letting the seat slide back and forth when driving.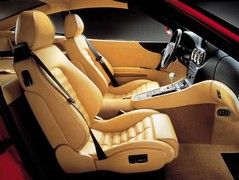 Lots of leather - make sure it's in good nick
Check the steering column doesn't drop or have any free play after it's adjusted and locked in place. It's also worth making sure the glovebox lid closes easily and there's not movement when it's shut as any slop indicates a broken hinge screw or poor replacement.
Ferrari provided climate control, lumbar adjustment for the driver's seat and a Becker CD stereo as standard. When looking at a car to buy, check it comes with the tyre inflator as there is no spare wheel, tool kit and all three keys. There should be two black keys and the red master key.
A lot of leather is used in the 550's cabin, so make sure it's all in good condition. Higher mileage cars may have worn driver's seat bolsters, which are easy but pricey to repair. Also make sure the leather on the dash has not been damaged if an aftermarket stereo or satellite navigation system has been installed.
The electric windows can become sticky in operation, which is an expensive fix as the doors have to be stripped to get at the mechanism. Another complaint from owners is the boot release is only inside the cabin and not on the boot or key fob. Also, check the boot carpet for damp as water spills in here when the boot is opened on wet days.
Barchetta owners are unlikely to bother with the simple fabric hood as it's fiddly to erect and is only intended as a get-me-home measure, not a year-round roof.

---
PHer quote
"The window seal of my car always made a snapping noise when closing the door. Also, a bead of water could be seen creeping past the seal when the car was being washed with a jet hose."
Jean-Claude Etter, Asphalte.ch

---
Buying guide contents:
Introduction
Powertrain
Rolling Chassis
Body
Interior
Search Ferrari 550s in the PH classifieds