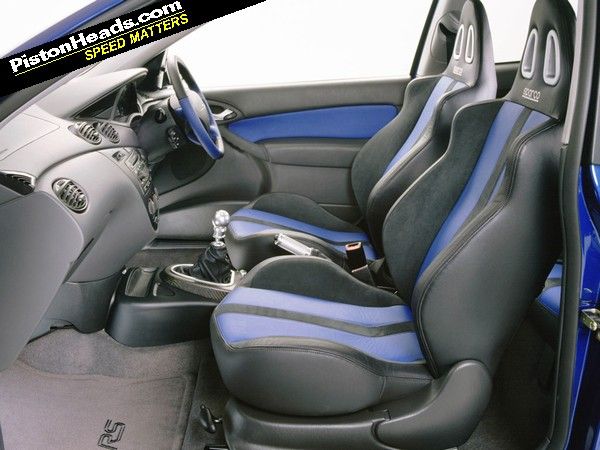 The Focus RS interior is dominated by the black and blue leather trimmed Sparco sports seats. Not to all tastes, the seats are unique to the RS and very comfortable. However, early build RSs suffered from seat cushions that collapsed after moderate use. Ford replaced these under warranty, so any car suffering from this now has either led a hard life or was not sorted when new. To cure a sagging seat will need the attention of an automotive trimmer to replace the old cushion.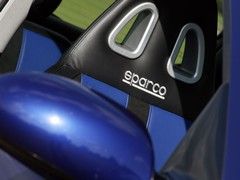 Sparco sourced trim marks the RS out
The leather and Alcantara on the seats should wear well, especially if it's been cared for with leather cleaner and hide food. Sadly, the two-tone leather-bound steering wheel doesn't fair as well and can look tatty on higher mileage Focus RS examples. The rear bench is likely to be in very good condition as few use the Focus RS as a family hatch.
Sparco not only supplied the seats, but also the aluminium gear knob, handbrake lever and foot pedals. Ford provided the revised dials with blue faces for the speedo and rev counter, and they also fitted a turbo boost gauge to the left of the rev counter where a water temperature gauge would normally reside in a standard Focus. The temperature gauge is replaced by a warning light, while the rev counter has an "RS" logo in its centre and a gear shift indicator that lights up in yellow as the engine nears its 6,500rpm red line.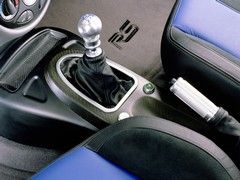 Carbon surround and starter button feature
Three other distinguishing features for the Focus RS are the carbon fibre surround for the console around the gear lever, a green starter button and next to it an aluminium plate with the car's unique build number. A late build RS can be identified by the "starter button" script for the green ignition button. All Mk1 Focus RSs have Ford's in-dash six disc CD changer stereo, electric windows, twin front airbags and air conditioning.
Buying Guide Contents
Introduction
Powertrain
Body
Rolling chassis
Interior
Search Focus RSes in the PH Classifieds now...