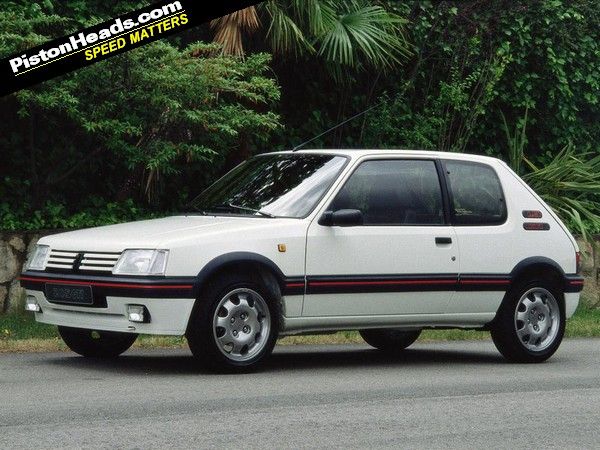 Hitting 30 is something of a milestone for most people. It's the age by which time, for most of us, youthful abandon is slowly being replaced by middle-aged responsibility, when comfortable routine replaces edgy spontaneity; when a nice cup of tea starts to sound more inviting than a night on the tiles.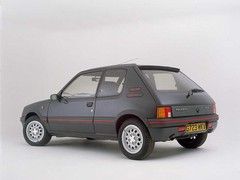 Still looking youthful at 30
Some of us, though, buck the trend. Just like the Peugeot 205, which is celebrating the big three-zero today, and showing no sign of growing up. Indeed, the
GTI versions
so beloved of PHers across the country are still introducing drivers to the raw thrill of pure, unfettered hot hatchery, complete with the obligatory trailing-throttle oversteer and delightfully torquey XU-series engines. The GTI became such a legend that it almost single-handedly transformed Peugeot from an also-ran manufacturer of comfortable-but-dull family cars into a company with a reputation for producing the best-looking, best-handling family cars out there. It's a good job they haven't squandered that reputation and returned to the former, isn't it? Oh hang on...
As you might expect, Peugeot has sought to recapture the magic of the 205 with each successive 20x GTI,  its latest attempt coming soon in the shape of the 208. But unless they pull off something really special, the only way to experience the thrill of driving the 205 GTI is still... well... by driving a 205 GTI.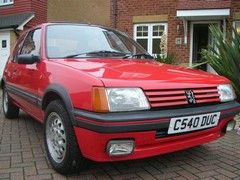 Tidy 1.6 is appealing - and good value!
Good job they're still one of the unexpected bargains of the performance used car market, then – as we highlighted in our
awards
last year. How's about this
slightly jaded but (mostly) unmolested
1.9, for a remarkably reasonable £1,300? It won't win any concours awards, but it look like it's been well cared-for and should offer all the flavour of the larger-engined 205 for a bargain basement price. Of course, if only a near-immaculate GTI will do, you'll have to pay a bit more – although the price demanded for
this 152,000 mile
example seems a little on the steep side.
Alternatively, if you disagree with Mr Harris and reckon the 1.6 is actually the 205 of choice, you'll be well-catered for too. This clean-looking 1.6 can be yours for £2,500 which, bearing in mind its condition and reasonable mileage, feels very reasonable indeed. There's certainly something enormously appealing about clean, original examples these in red with amber indicators all round.
Whichever model floats your boat, if you've always had a hankering for an example of Peugeot's finest hour, get in quick – prices aren't likely to hang around at this level forever. For a car that's still spoken of in such hallowed terms and loved by most, these are still fantastic buys.
Oh, and happy 30th, 205. Don't ever grow up.