So here it is: the PH Caterham Seven long-termer has arrived. That's a good sentence to write. You may be wondering where it's been, the car having been built over the Easter weekend. Being that time of year there was a fair old delay getting the car IVA'd and registered then, as the car was just about ready, Goodwood got in the way. But with the car having taken pride of place on Caterham's Festival of Speed stand - and having drawn many admiring glances - it was ready for us to collect.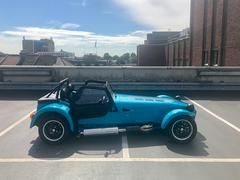 Miami Blue £1,000 well spent
Since then it has continued to draw admiring glances from pretty much everyone. How could it not? Porsche Miami Blue was agonised over for a good while, and proved a tricky colour to match as well, but I think the effort was worth it. Doesn't it look fantastic? Good job the colour was my decision then...
Beyond the colour, this 310 also has the R pack (limited-slip diff, bigger brake master cylinder, track optimised suspension), the carbon dash, a removable steering wheel and the black decals. Oh yes, plus the door and roof package. Useful to have. They do get pricey, don't they?
Truth be told, the Seven experience didn't start well either. I got to Crawley later than planned, the car didn't have plates on and, by the time I got to the M25, the rush hour jam had been exacerbated by a crash. In 30-degree heat. Let me assure you, there are few worse automotive experiences than a Seven in a summer jam. You could wring my shirt out once the journey had finished.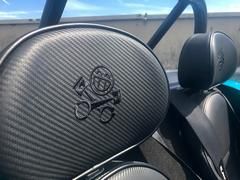 £400 for carbon leather seats perhaps not...
Now I could bang on about what the little Seven has been like in the following few hundred miles (brilliant, in a word), but then we have competition winners for that. Yes, each of the seven chaps who lent a hand building the Seven will have a weekend with it, reporting back soon after on their adventures. Means less of the PH staff waffle at least!
One thing I would like to tell you about though is the BookATrack day at Donington I attended last week, because the competition winners aren't allowed to take the car on track. Sorry guys. Not only that but it was also a joyous, hilarious, magnificent day, one of the most enjoyable I've ever had on circuit.
Sure, slogging up the M1 at 6am and returning that afternoon in the rain is nobody's idea of fun. The car seems to get really hot whatever the weather. And it's so noisy. Out on a slippery circuit though that simply doesn't matter - the car is fabulous, fabulous fun. The 310-spec engine feels a unit transformed from the fairly ordinary Sigma 1.6 found elsewhere, boisterous and feisty and really, really potent. There's more torque and a hitherto unknown appetite for revs, the engine screaming through the last 2,500rpm from 5K with great energy. Of course on track that suits absolutely perfectly.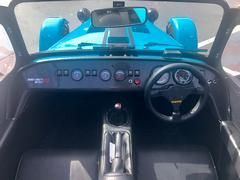 It's not standing still for long!
I adore the handling, too. A Seven may not be the fastest way around a circuit anymore but for involvement and feel, for the sensation of finely manipulating everything that the car does, I think it's without rival. Get it wrong - like one poor soul did on the exit of Coppice - and they're miserable; get a Caterham right however and there's not much else I'd rather be driving. Particularly at a damp Donington. See the vid
for a sense of it. I even overtook a 620R, though annoyingly that didn't record...
So LJ17 HVP has already made an overwhelmingly positive first impression, and I'm sure it will continue to do so. Suffice it to say you'll be seeing plenty more of the car over the coming weeks! First report from Ben to follow soon.
---
FACT SHEET
Car: Caterham Seven 310R
Run by: Whoever gets it first
On fleet since: April 2017
Mileage: 2,453
List price new: £23,495 (As tested £38,930 comprising £2,500 for factory build, £4,495 for R pack, £200 for track suspension pack, £675 for Ventilated front brakes with quad piston calipers, £200 for 13-inch Apollo black alloys on Avon ZZS tyres, £1,250 for full weather equipment and side screens, £95 for side screen arm rests, £80 for hood bag, £95 for boot cover in carbon vinyl, £115 for fully carpeted interior, £400 for carbon leather seats, £150 for Momo quick release steering wheel, £300 for heater, £300 for Sequential shift lights, £495 for lowered floors, £900 for high intensity lights with LED daytime running lights, £1,000 for Miami Blue custom colour, £395 for full decal pack, £995 for full paint protection and £895 for on the road package)  
Last month at a glance: Splendid start for summer in a Seven!
Find out more about Caterham here.