Alpina 'S' models don't come along all that often, so they are more than worthy of attention when they do. The latest is the B4 S, an evolution of - and a replacement for - the car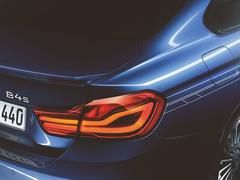 Keep the decals, keep the decals, keep the decals...
As befits a car with an 'S' badge, this Alpina boasts more power - now 440hp, from 410 - and torque - a total of 487lb ft, instead of 443 - than standard, achieved through a new twin-turbo set up that "provides even higher capacity" and a reworked induction system that should also improve throttle response. The Akrapovic exhaust has a manually selectable sport mode now too, instead of simply activating when the car decides you're driving in a sporty fashion. In addition there's a new piston crown cooling system and a thermal management system that aims to keep temperatures consistent over "prolonged, fast driving." Which is what you want to be doing in an Alpina, right? For what it's worth this is now a 190mph car, the coupe also capable of 0-62mph in 4.2 seconds and 13.6 to 125mph. For the Convertible you can take away a single mile per hour, add another tenth and then another 1.6 seconds as well.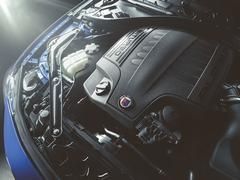 Turbo tweaks yield 440hp, top speed now 190!
Now Alpinas are known for their excellent ride, even on very large wheels, and so you would hope that this remains for the S. Alpina says spring and damper rates are "higher" - hopefully not too much so - with new front and rear spoilers also changed from the B4. Driveshafts are uprated to deal with the extra torque, and a limited-slip diff is standard for the S in the UK where it was an option on the B4. It's said to provide "a very progressive lock up to 40 per cent", with Michelin Pilot Sport S tyres also used.
Both the B4 S Coupe and Convertible will make their UK debuts at the London motor show next week; we're told to expect a B3 S saloon and Touring in time as well. For now the Coupe will cost £63,000 and the Convertible £67,000 - if you have some big distances to cover in the summer it's hard to think of much better!