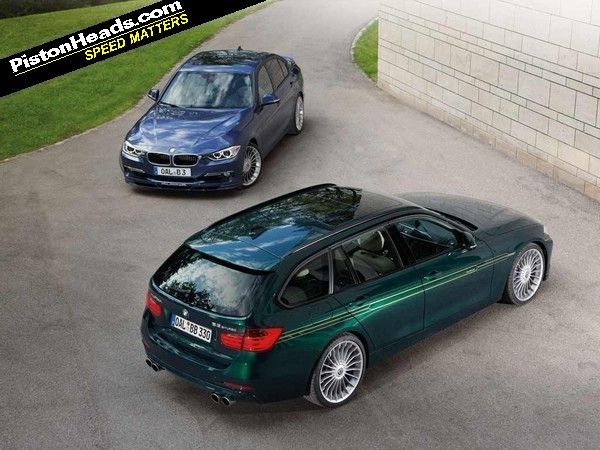 We shouldn't be this excited about what is ostensibly a diesel 3 Series. But then that's really doing the Alpina D3 Bi-Turbo a disservice, isn't it? What it may actually be is the most desirable car in the motoring writer's favourite place, The Real World.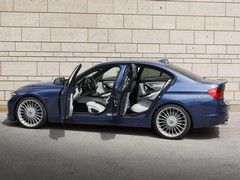 Saloon is nice, but you want the Touring, right?
We've speculated
on the D3
previously, but today comes the official spec detail from Alpina. The 350hp, 516lb ft, 139g/km and 53.2mpg we're familiar with, but there are some very exciting additional numbers from Alpina today. The official 0-62mph time is 4.6 seconds, and prices have been confirmed too: £46,950 for the saloon, £49,950 for the Touring.
As with the B3 Bi-Turbo, a few trademark Alpina accoutrements distinguish the D3. 'Subtle aerodynamic enhancements' include new bumpers and side skirts, there are four exhaust pipes and, of course, those 19-inch multispoke alloy wheels.
The interior receives the familiar Alpina upgrades; a build number plaque, blue instruments displays, a smattering of logos and hand-stitched Lavalina leather.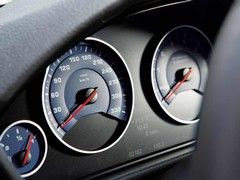 That fuel gauge will stay full with 53.2mpg!
The ZF eight-speed auto is standard, and Alpina will have worked its magic on the Adaptive M Sport suspension again also. 'Alpina Green' is one of the striking signature colours, although we'd probably stick with blue.
Both versions of the world's fastest diesel production car (Alpina's words, not ours) are available now. We were scratching our heads trying to find a comparable car to the D3, but there is something; take one Mercedes C350 CDI and treat it to a few hours at Brabus and its D6 S package. 265hp and 457lb ft are massaged to 313hp and 509lb ft, which should keep the Alpina in sight. That's £2,326.80 fitted, which would make a Brabused C350 saloon £38,371.80. It's another option, certainly.
Finally, another (sort of) valid stat amongst the power and performance; a 22 per cent Benefit-in-Kind rate means a D3 saloon driver in the 40 per cent tax bracket would pay just £344.66 a month. PistonHeads. MPG matters...