Speed dating has ruined the Audi TT for me. And in more than one sense, too.
I have an admission to make - my encounters at speed dating events have been occasionally fantastic, often tragic. But one question can always be relied on to come up: 'What do you do?' And as soon as the job of car scribe is mentioned, everyone immediately tells you what they drive. And I soon realised two things: every speed dater seems to be in marketing, and everyone in marketing drives an Audi TT.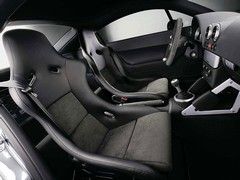 There was a 'comfort' option; buckets cooler
As if that wasn't bad enough, there's my more literal 'speed date' - an appointment with a TT Mk1 around Silverstone. Quick in a straight line the TT undoubtedly is, but its charisma as a corner-meister is sorely bypassed. Too little feedback from the steering wheel, and even less from a numb four-wheel drive chassis.
Redemption gong
Maybe, just maybe, redemption has arrived in the all-new TT Mk3, especially as there may be a Quattro Sport version.
Ah yes, the words 'Quattro Sport' got me thinking back to the original version. Even I, blinded by my anti-TT prejudices, have to concede that the Mk1 has an iconic shape, as well as one of the world's most seductive cabins. Mk1 TTs have long since entered the banger zone, but one Mk1 is a sure-fire future classic. No, not the V6, tasty though its 250hp motor is. The Mk1 to have is the 240hp Quattro Sport.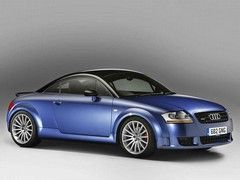 Contrast roof most obvious distinguishing feature
Why? For starters, it's a special edition. Just 800 were made (for the UK market at least), and people in the know say there are probably only 650 left. So it's rare, then.
Strictly for two
It's also built by Quattro GmbH, which breathed on the 1.8 turbo lump to boost it from 225hp to a snorting 240hp, with a healthy 236lb ft of torque. The QS also went on a diet, reducing weight by 75kg. The rear seats (useless in any case) were ditched in favour of a brace bar. Also deleted were the spare wheel, parcel shelf and climate control. The result? 0-62mph in 5.9 seconds. Additionally, a relocated battery (to the rear), plus S Line suspension, gave the TT the best chance of actually getting around corners.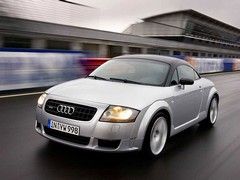 It's the Mk1 TT for those who like corners too
The '240' also looks cool in its duo-tone finish. Black paint for the roof, contrasting silver, red, blue or, er, black for the bodywork (the same contrasting colour being echoed in the backs of the front seats). You also got an S Line bodykit, black tailpipes and unique 18-inch 15-spoke alloys over red brake calipers. Inside, The TT's front seats were swapped for tasty Alcantara/leather Recaros with loads of lateral support - and there were even mounting points for race harnesses, plus an Alcantara steering wheel, gear lever and handbrake. Yum.
It's all about the Mk1
So what price a Quattro Sport? Inevitably they're the priciest of all Mk1s. The cheapest we could find in the PH classifieds is this one at £6,800, while this one at £7,850 is more typically priced. This low-mileage (45K) example at £9,999 is on the pricey side, but here's the thing: I can't see a Quattro Sport being anything other than the soundest of investments. Look after it, keep it standard, and there will always be a demand for it. You'll even have something in common at speed dating events.