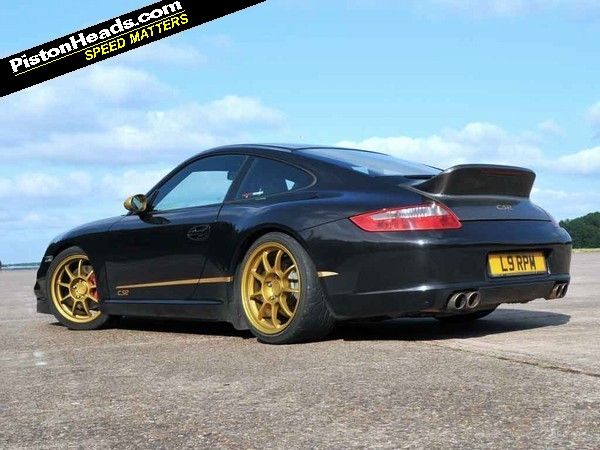 Like the look of the
RPM Technik CSR
but can't escape the fact that the man maths calculator adds used 997 Carrera to the c. £20K conversion cost and equals
full fat 997 GT3
?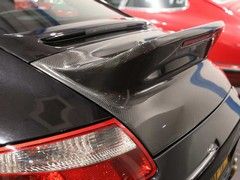 Carbon ducktail to make your 911 stand out
Certainly in RPM's own showroom you could reach that conclusion, the guys there having recently sold a Carrera 2 S that would have been a good base for the CSR conversion for just over £30K (seemingly
the going rate
in the PH classifieds) while beside it is a 2007 GT3 up for just over £50K.
In response to this and demand from Porsche owners looking to pick and choose CSR upgrades according to need and budget RPM is offering individual components off the shelf. So if you fancy a bit more zing to your flat-six you could go for the lightweight clutch and flywheel, with or without the custom exhaust, or instead for a more suspension based package with the Ohlins dampers.
Or maybe you just fancy the carbon ducktail and be done with it.
That GT3 still appeals from a purist perspective and its investment potential. But if you've already got a 997 or just want a couple of choice upgrades there is at least the option of cherry picking the bits that matter to you, rather than pulling the pin on the full £20K CSR package, tempting as that may be. Here's the full list of upgrades and prices:
| | | |
| --- | --- | --- |
| Part | Supply only | Fitted price |
| Short shifter kit | £235.00 | £365.00 |
| Wavetrac differential | £1,020.00 | £1,702.50 |
| Carbon ducktail with rear light | £1,552.45 | £1,747.45 |
| Ohlins suspension kit | £2,340.00 | £2,730.00 |
| ARB Upgrade | £355.00 | £517.50 |
| Lightweight clutch and flywheel | £600.00 | £1,055.00 |
| CSR Sports exhaust | £1,450.00 | £1,645.00 |
| OZ wheel option (Without tyres) | £1,350.00 | N/A |
| Geometry & Corner weight setup | N/A | £550.00 |
| Sports steering wheel | £885.32 | £950.32 |