Nope, discussion about Porsche's decision to PDK-only
the new GT3
isn't over yet - this really is the gift that keeps giving and the car hasn't even been driven yet. We've
had our say
, you've had yours. Now it's Porsche's turn.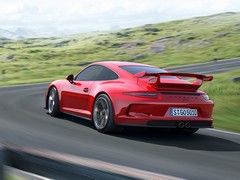 PDK is motorsport-inspired too, says Porsche
It could of course be a complete coincidence but Porsche has issued a press release celebrating the success of its PDK gearbox and the decision to make it compulsory fit for the GT3 in the context of its motorsport heritage. "In den 1980s," runs the hastily-translated copy, "Porsche developed a world first in automotive technology for use in races and thus won the race: the dual-clutch transmission. In 2013, this progressive transmission returns to the circuit course [in the] new 911 GT3."
It goes on to remind us that the dual-clutch transmission was first developed for the 962 racer, which took 54 race wins and various championships in its time, and it adds that the PDK system is a key reason the GT3 can lap the Nordschleife in under 7min30sec and hit 62mph in 3.5 seconds. What's more, it re-iterates that the GT3's PDK system will feature only two shift patterns: Sports and Race, in which gears are held for longer and upshifts are carried out only with "higher torques" [sic]. If we didn't know better, we'd say Porsche's feelings had been hurt by the criticism.
All well and good, but if it's such an important part of the GT3's track-bred influence, it does beg the question why racing 911s like the new 991 based Cup and RSR use the 'old engine' and conventional race sequentials, albeit now paddle shifter controlled.