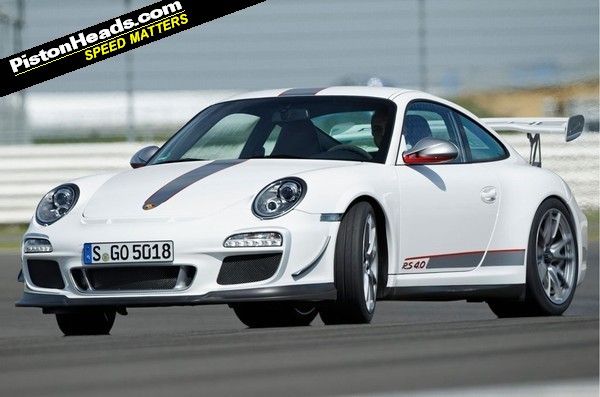 Following on from
earlier recalls
this side of the pond Porsche has issued a recall on some of its 911 GT3s over in the USA.
The recall
aims to cure a fault with the centre-lock rear wheel hubs, which Porsche admit may be prone to failure under certain conditions. Porsche has also said that the maintenance intervals originally suggested for these hubs might not be enough to prevent wheel hub failure.
It comes after much speculation of problems with the centre-lock hubs. In summer, Jalopnik posted a video of a GT3 RS shedding a rear wheel at the 'ring.  What's more, anecdotal evidence suggests many GT3 owners have already had the recall modifications applied to their cars at dealerships. The full nature of the tweaks involved hasn't been specified, but Chris Harris's chat with Wolfgang Hatz a couple of weeks back suggests that new hub nuts rated at 600Nm will be the crux. In the same interview, Hatz stood by the centre lock hubs, adding that if you use them properly, the system still works.

---
Update: We've now had official word from Porsche on this subject, and you can find it reproduced below:
"Current market observation shows that the race track usage profile of many vehicles in the 911 model line now comes close to that of pure GT3 racing vehicles (e.g. GT3 Cup).
The component stresses associated with race track use and competitive driving are much higher than for a sporty driving style on public roads.
The revision intervals for race track use must therefore be observed, particularly for highly stressed chassis components, in the same way as is required for GT3 racing vehicles.
If these revision intervals are not observed, the failure of highly stressed components and breakage of the hubs on the rear axle, for example, cannot be ruled out, particularly in the case of components in advanced stages of wear.
In order to standardise revision intervals, Porsche has decided to replace the wheel hubs on the rear axle of the GT3 with standard wheel hubs.
Customers have received a letter from Porsche GB asking them to contact their preferred Porsche Service Department, so that we can arrange to have the necessary work completed as soon as possible. This work will of course be carried out free of charge."