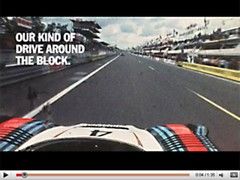 Click large image below to see the video
Porsche's latest US TV ad for its new Panamera is quite a sight, featuring 50 models from its undoubtedly glorious past. The idea is to prove to doubters that the new super-saloon is indeed a thoroughbred Porsche - and you've got to say that the result is effective.
Check out the Porsche Panamera 'Family Tree' ad here
But Porsche's recent cinematic output includes an even more sparkling gem. This recent 'Roots in racing. Not posing' ad is a nostalgia-fest of Porsche racing images, and every vignette could be a whole ad in itself.
It really is a Porsche-phile's wet dream, though we note the conspicuous absence of the most recent parts of Porsche's motorsport heritage. Still at least that means it is blessedly free of any images of the Cayenne...