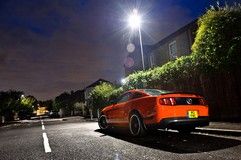 Click to preview
We know we're in danger of over-Mustanging PH today, but (to paraphrase Russ Abbot) we love a picture with an atmosphere. And this one has bags of it.
It isn't just the PH Carpool GT500 that has got us all drooly over Ford's pony car either, because last weekend we took this very Boss 302 Mustang along to the Wilton House supercar show.
Given its task of rubbing shoulders with the cream of supercar exotica (think Enzo, Koenigsegg and McLaren), you might have reasonably expected the orange boss t be a little overshadowed, but nothing could have been further form the truth.
It felt quick, sounded great, and drew as many excited squeaks from the crowd as a 'conventional' supercar four times its price would have. You'll be able to read more about our experiences with it next week, but for now please just enjoy the moody wallpapery goodness.
Pic: GFWilliams
Normal (1280x1024)
WideScreen (1440x900)
SuperSize (2048x1536)