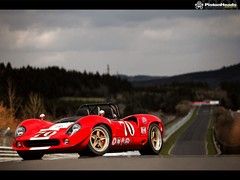 "Thought you might like to see this", said Andy Burrows, as he sent us a link to this clip of a factory-built GDT70 ripping-up the Nurburgring in gloriously period style.
We did, and we thought you all might like to see it too.
Andy is the founder of Gardner Douglas, and adds the following background to this Ring adventure: "There has been much talk about how quick cars are around the old Nurburgring so we thought we would join in and check the performance of a road going GDT70. Last week I joined our Italian friends to give some support and do a little set-up on the GDT70, and this is the in-car footage of one of the laps.
"The car is a typical factory-built road going GDT70 with detachable screen removed for preservation. Engine is GM LS7 with period-style Kinsler throttle bodies, revs were limited to 6500 rpm (max is 7200rpm) which meant it was restricted on gearing down the main straight to 177mph (GPS checked). You will also see in the video the lap was not a clear run with some traffic."
The full lap time was 7.45 (with traffic and the short gearing on rev limiter), but we know there is more in the bag if we so wished!
The driver is Dario Margutti, from Bergamo, Italy-based Gardner Douglas (and Caterham) distributor Mythos Cars. To celebrate this heroic effort, weve made the GDT70 pic of the week.
(Pic courtesy of Marco Zamponi.)
Normal (1280x1024)
WideScreen (1440x900)
SuperSize (2048x1536)