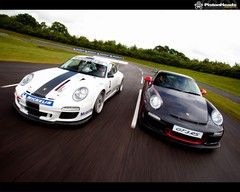 Click to preview
In order to celebrate this weekend's Autosport International show (tag line 'The Racing Car Show) and its twin sister, our very own
PH show
(tag line 'The Performance Car Show'), today's POTW features both a racing car and a performance car.
The shot of a Porsche GT3 Cup car alongside the GT3 RS road car is actually part of a press release celebrating the Carrera Cup GB getting a race on the Nurburgring (the proper one, too) as the centrepiece of its 2011 season, but we're sure Porsche won't mind us hijacking the picture for purposes of a deeply tenuous link...
So enjoy the double-Porsche goodness, and if that's whetted your appetite for a gawp at other racing cars and performance cars of all types, do pop along to the NEC this weekend and take a look.
Normal (1280x1024)
WideScreen (1440x900)
SuperSize (2048x1536)