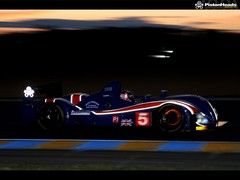 Click to preview
We know we've been rabbiting on about this a lot on PH is recent weeks, but the annual pilgrimage to Le Mans is truly one of the highlights of the year here at PHHQ (that and editor Chris-R's annual haircut). And it's now only a week away.
And, if it's not too clumsy a turn of phrase, one of the highlights of said highlight is the chance to watch some night racing.
Whether you crawl through the undergrowth clad in full camo gear, sneaking past marshals' posts on the Mulsanne straight to get your night-time kicks (we would not of course condone such behaviour), or prefer to soak up the atmosphere of the pit straight, with its frantically busy pit crews and echoing engine wails, the sight and sound of racing in the dark is pretty epic.
We hope today's POTW brings some of that excitement to your computer's desktop (even if it is only dusk)... and you might recognise a certain logo on the wing end-plate of Mr Mansell's motor from last year (although perhaps the less said about that performance the better).
And for those of you heading off into western France next week – we'll see you there!
Normal (1280x1024)
WideScreen (1440x900)
SuperSize (2048x1536)